Regular price
Sale price
₱400.00
Unit price
per
Sale
Sold out
LOVE IT OR WE WILL REFUND YOUR MONEY - We don't think you should pay for products that will not benefit you. Our Pure and Organic Turmeric Powder is very effective. Follow our tips and recommendation - If you aren't experiencing the health benefits of our products, simply let us know and we will refund your order - it's as easy as that!
TIPS ON HOW TO PREPARE: 1. You can mix it in hot water add sweetener and serve it as tea. 2. You can add it in your food as well. 3. You can also mix it with juices or fruit and veggies shakes.

RECOMMENDED SERVING: 3 to 4x a day. 1 or 1/2 Teaspoon only per serving. Can be taken before or after meal. Very safe on empty stomach.

FREE SHIPPING for orders over ₱1,000.00! Standard shipping fee nationwide ₱180.00

Cash On Delivery all over the Philippines!

200 grams. Eco-friendly Resealable Pouch.

100% Organic Natural Turmeric Root Powder with Curcumin for Higher Absorption with high therapeutic value, improves digestion and acts as a natural liver detoxifier.

Plant based Turmeric Supplement Increases the Antioxidant Capacity of the Body, boosts Brain Function, lowers Risks of Heart Disease.

Proud product of the Philippines with GMP (Good Manufacturing Practices) Certified Facility with No Filler, No Binders and No Artificial Ingredients, reduces cholesterol level, thereby preventing many cardiovascular diseases.

With Anti Inflammatory properties it also relieves and prevent Joint aches and back pain, helps in weight loss and reduces the occurrence of obesity-related diseases.

Gluten Free, Dairy Free, Soy Free Whole Turmeric supplement supports liver health, promotes cognitive function and memory.

Best Gift for Everyone Who Needs to be Healthy.

You may follow our FB Page https://www.facebook.com/NehemiahSuperfoodPlus or join our FB Group: Health and Wellness Awareness - Project NEHEMIAH for some health tips and ways on how to prepare and enjoy this superfood.

Revelation 22:2 "In the midst of the street of it, and on either side of the river, was there the tree of life, which bare twelve manner of fruits, and yielded her fruit every month: and the leaves of the tree were for the healing of the nations."

WHY CHOOSE NEHEMIAH SUPERFOOD? We are using dehydration process to retain almost all (slight reduction of Vitamin C because of the process) of the original vitamins, minerals, and natural enzymes of food far better than other forms of food preservation like in other capsules, liquids or other powdered process.



Ingredients: Natural organic turmeric or luyang dilaw


Health Benefits of Turmeric Your Body Will Definitely Benefit

Cleanses the skin from Acne.

Prevents hardening of arteries.

Alleviates pain from arthritis, bursitis, and tendonitis.

Helps kill cancer cells.

Fights gum inflammation.

Reduces bad breath and gingivitis.

Aids a nervous stomach.

Fights against Alzheimer's disease.

Enhances joint and bone health.

CAUTION: Turmeric is not recommended during pregnancy or if you have gallstones or a bile duct obstruction.

Ingredients: Natural organic turmeric or luyang dilaw
Kindly check this additional discovery on how to administer the powder:
Pwedi rin po kung may shaker kayo using cold water or use small bottle with cup, this way hindi po lalabas ang aroma ng powder. Lagay po ang choice powder sa shaker or bottle, (add powdered milk, kung hindi lactose intolerant, brown sugar or honey, kung walang issue sa diabetic, purpose is to add taste) add small amount of cold water (gigger lang) shake well and drink straight. 1 or 1/2 teaspoon per serving.
 
Anybody can be a victim of health problems. Don't be a part of statistics. Invest on your health today before it's too late!
View full details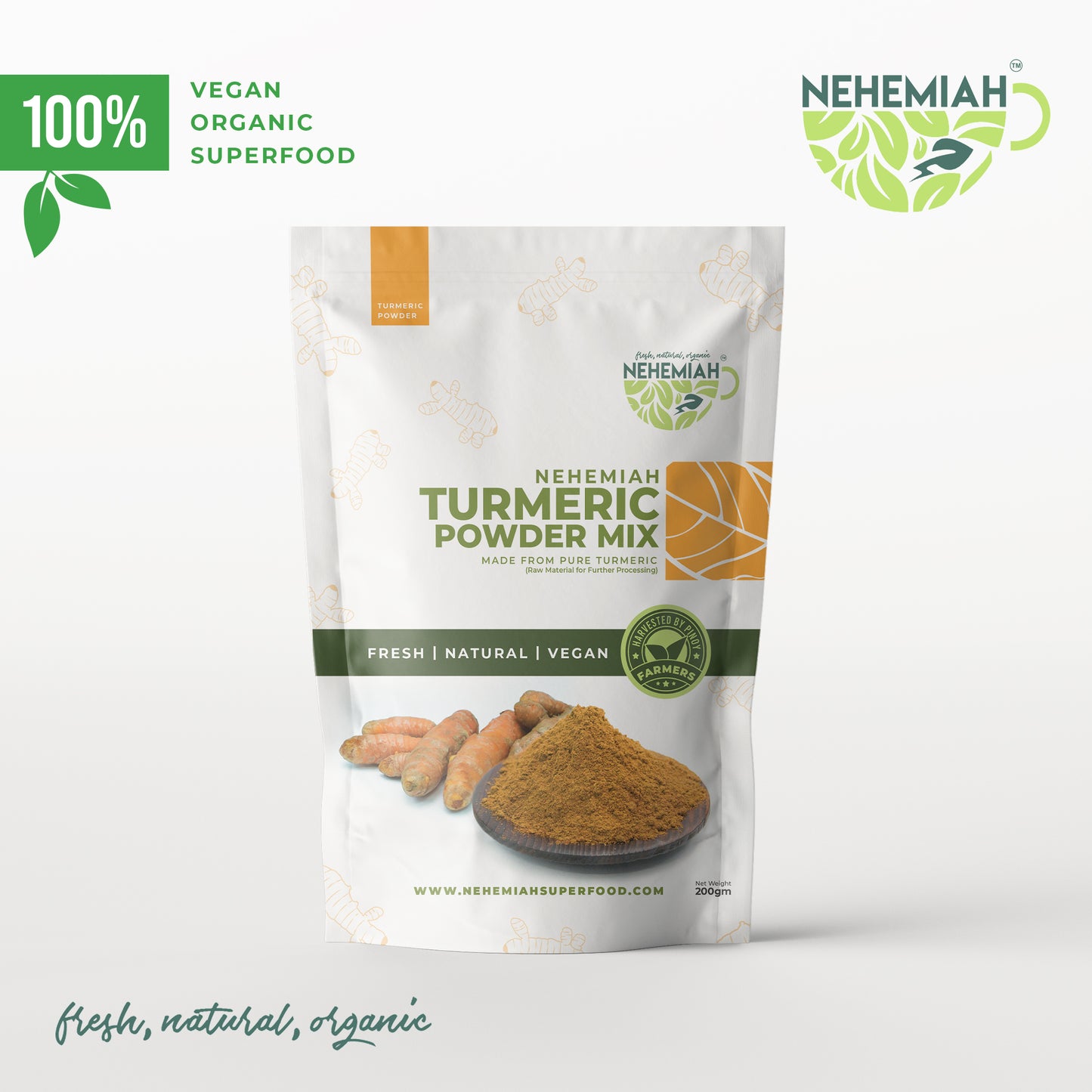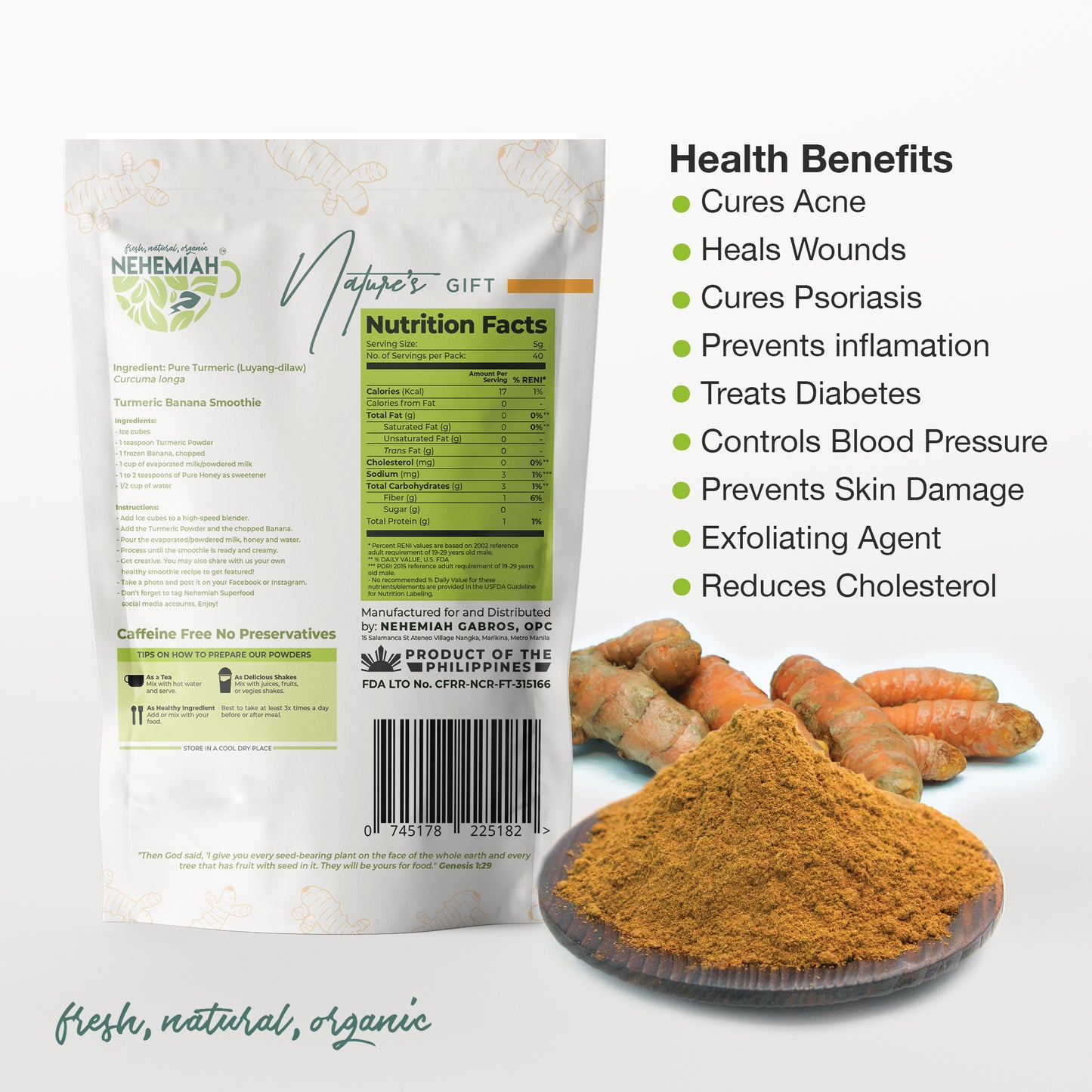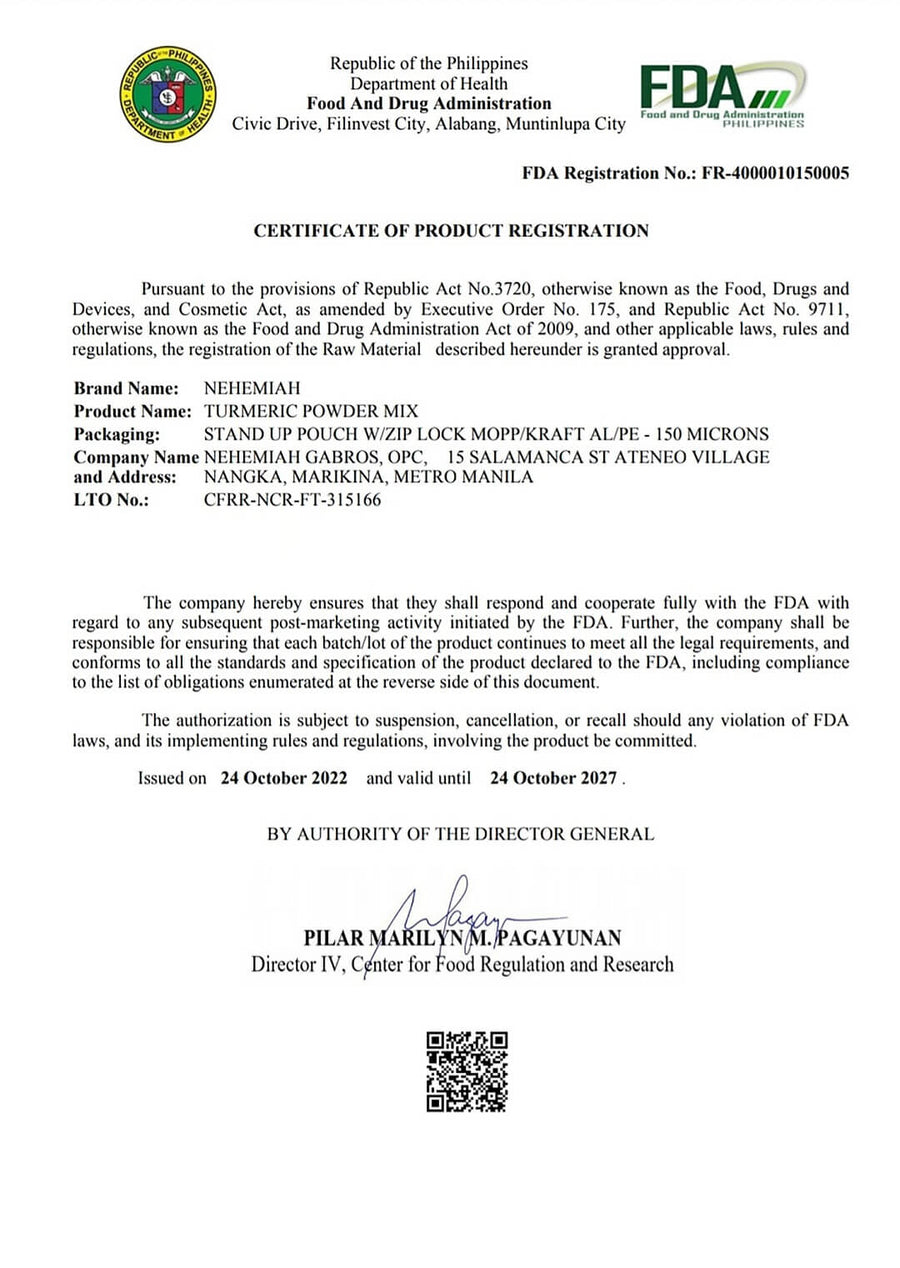 HIGHLY RECOMMENDED TURMERIC POWDER, NEHEMIAH SUPERFOOD THANK YOU ALSO FOR YOU PRODUCTS, PURONG PURO UNLIKE OTHER PRODUCTS ,
My case is osteoarthritis of the knee...inflammation problem kasi ito e...Nehemiah Superfood Turmeric has great aniti-inflammatory benefits, I think because of the way it is processed? Kahapon ginawa ko syang "agua tiempo" like what my grandmother used to advise me. Today our term will be "water therapy"..ang sarap! Refreshing! Kahit walang sugar, at lukewarm water lang.
Nehemiah Superfood thank you also for your products it really helps boost my immune system.By the way I'm drinking turmeric every morning and damong maria @ after lunch.Next i will try another one like mangosteen😊☺️😘
This helped me a lot in my heart burn and bloating not to mentioned the fact that It has helped my osteo arthritis too. I've taken a lot of stomach medicines while in the US but it didn't help me. Dito lang pala sa Pinas makikita ko yung lunas na magaan sa bulsa at organic pa. Thank you Nehemiah Superfood! I'm bringing a lot pagbalik ko sa US...continue to bring relief to millions of our Kababayan. God bless!
Ang maganda kasi sa Nehemiah, yung pagiging natural at wlang chemical process. Saka effective nman gaya ng turmeric tea ninyo nakakabawas sa kirot ng almoranas ko at bloated ng tyan. ok yan mga products nyo
Ezekiel 42:12
"...and the fruit thereof shall be for meat, and the leaf thereof for medicine."