Regular price
Sale price
₱400.00
Unit price
per
Sale
Sold out
FREE SHIPPING for orders over ₱1,000.00!

Standard shipping fee nationwide 

₱180.00

Cash On Delivery all over the Philippines!

200 grams.

Eco-friendly Resealable Pouch.

TIPS ON HOW TO PREPARE: 1.

 

You can mix it in hot water add sweetener and serve it as tea. 2.

 

You can add it in your food as well. 3.

 

You can also mix it with juices or fruit and veggies shakes.

RECOMMENDED SERVING: 2 to 3x a day. 1 or 1/2 Teaspoon only per serving.

You may follow our FB Page https://www.facebook.com/NehemiahSuperfoodPlus or join our FB Group: Health and Wellness Awareness - Project NEHEMIAH for some health tips and ways on how to prepare and enjoy this superfood.
Revelation 22:2

 In the midst of the street of it, and on either side of the river, was there the tree of life, which bare twelve manner of fruits, and yielded her fruit every month: and the leaves of the tree were for the healing of the nations.
We are using dehydration process to retain almost all (reduction of Vitamin C because of the process) of the original vitamins, minerals, and natural enzymes of food far better than other forms of food preservation like in capsules, liquids or other powdered process.
Where it Grows – Tawa Tawa tea (Euphorbia hirta) or "The Asthma Plant" tawatawa grows all over India, Asia, Japan, Australia, Africa and in other parts of the world including the US.

Other names for the plant are pill bearing spurge, garden spurge, hairy spurge, koko kahiki in Hawaii, and baridhudi in Hindi. It loves growing in open areas with lots of grass and even along side roads… and it's easy to grow.

Parts Used – The leaves and stems are most commonly used for tea… but for certain applications, even the roots are used.
HEALTH BENEFITS:

Lowers Blood Pressure – Tawa Tawa Tea lowers blood pressure by being an anti-diuretic agent… containing an angiotensin enzyme that decreases urine output.

Anti-diuretic – Tawa Tawa Tea is great for those who suffer from drinking too much coffee and becoming too dehydrated or drinking too much alcohol. This tea decreases urine output thus helping to prevent dehydration. It contains tannins and other compounds that reabsorb electrolytes and water into the system.

Antibacterial, Anti-fungal, and Ameba Agent – Tawa Tawa Tea is a good antibacterial, anti-ameba, and anti-fungal agent that inhibits the growth of these infections… plus the tea can be used externally for treating athletes foot. It's recommended for internal use to boil up to 50 grams of the fresh leaves in 4 cups water for 3 or 4 minutes, then drinking 3 to 5 cups a day.

GI Tract – Tawa Tawa Tea calms and soothes the GI tract and puts an end to diarrhea. For diarrhea use, one teaspoon of the dried leaves steeped in one cup of water for 5 to 10 minutes and drink 2 or 3 cups a day.

Relaxing Agent – Tawa Tawa Tea also helps to sooth away anxiety and stress. For stress boil up to 50 grams of the fresh leaves in 4 cups water for 3 or 4 minutes, then drinking 3 to 5 cups a day.

Increases Platelet Production – Tawa Tawa Tea boosts platelet production. A study with rabbits at San Pedro College in the Philippines showed a 194% increase in platelet production. Steep 1 teaspoon of dried leaves in one cup of hot water for 10 minutes and drink 2 to 3 times a day. More Studies to be done on Tawa Tawa and increasing Platelets.

Dengue Fever – Tawa Tawa Tea can boost platelet production which is important for treating Dengue Fever. But it should not be used for more than 24 hours or up to 2 or 3 days in the beginning stages of Dengue Fever.

Asthma and Bronchitis – Tawa Tawa Tea works well for asthma and bronchitis as a bronchodilator… thus making it easier to breathe.

Skin Problems – The fresh sap of the plant can be applied externally for treating wounds, boils, warts, fungi, and rashes… it will turn dark blue when applied. Plus a dried powder of the leaves can also be used for open wounds.

Oral Ulcers – Tawa Tawa Tea used as a gargle heals oral ulcer because it kills bacteria.
INGREDIENTS: Natural pure tawa-tawa.
Kindly check this additional discovery on how to administer the powder:
Pwedi rin po kung may shaker kayo using cold water or use small bottle with cup, this way hindi po lalabas ang aroma ng powder. Lagay po ang choice powder sa shaker or bottle, (add powdered milk, kung hindi lactose intolerant, brown sugar or honey, kung walang issue sa diabetic, purpose is to add taste) add small amount of cold water (gigger lang) shake well and drink straight. 1 or 1/2 teaspoon per serving.
Anybody can be a victim of health problems. Don't be a part of statistics. Invest in your health today. Order Now!
View full details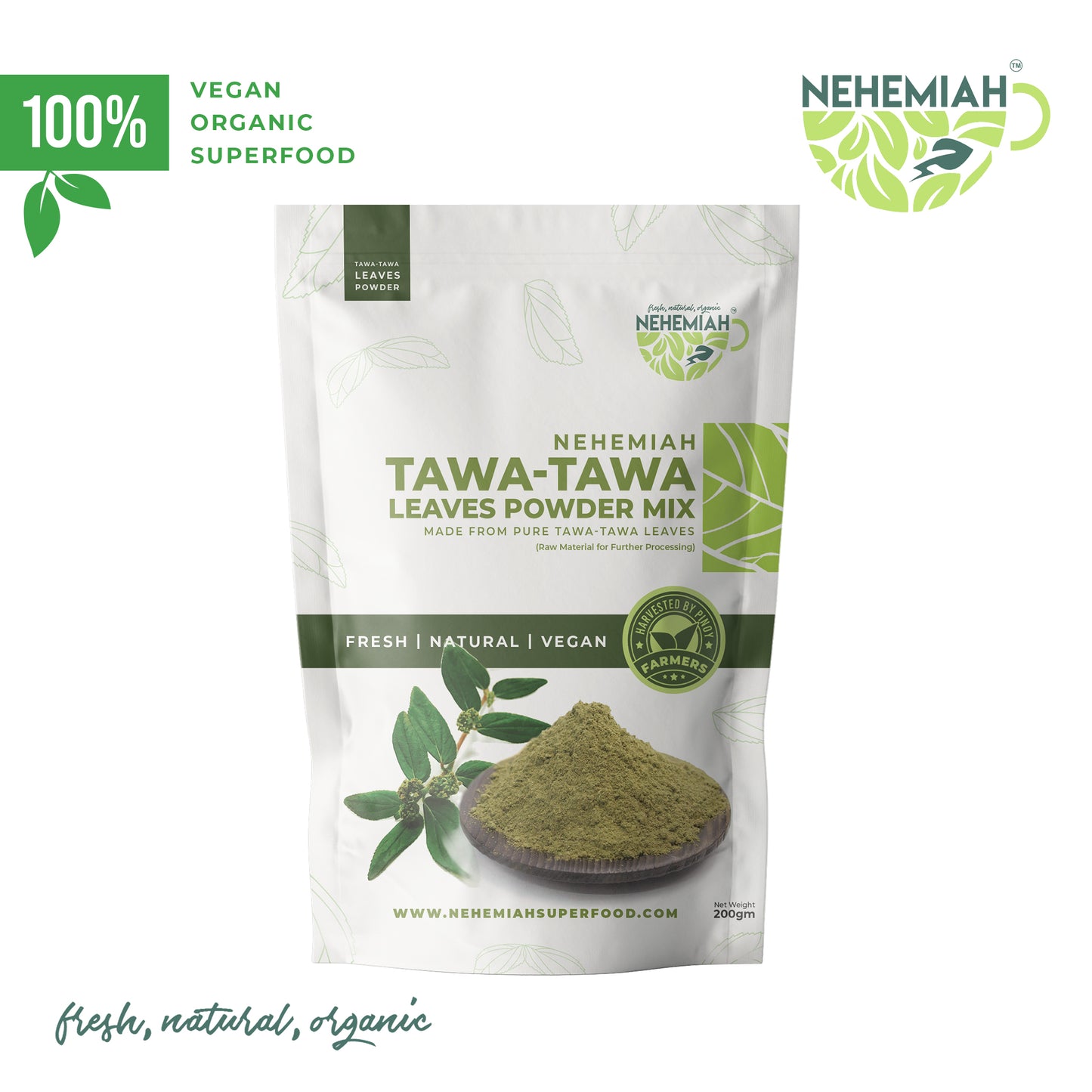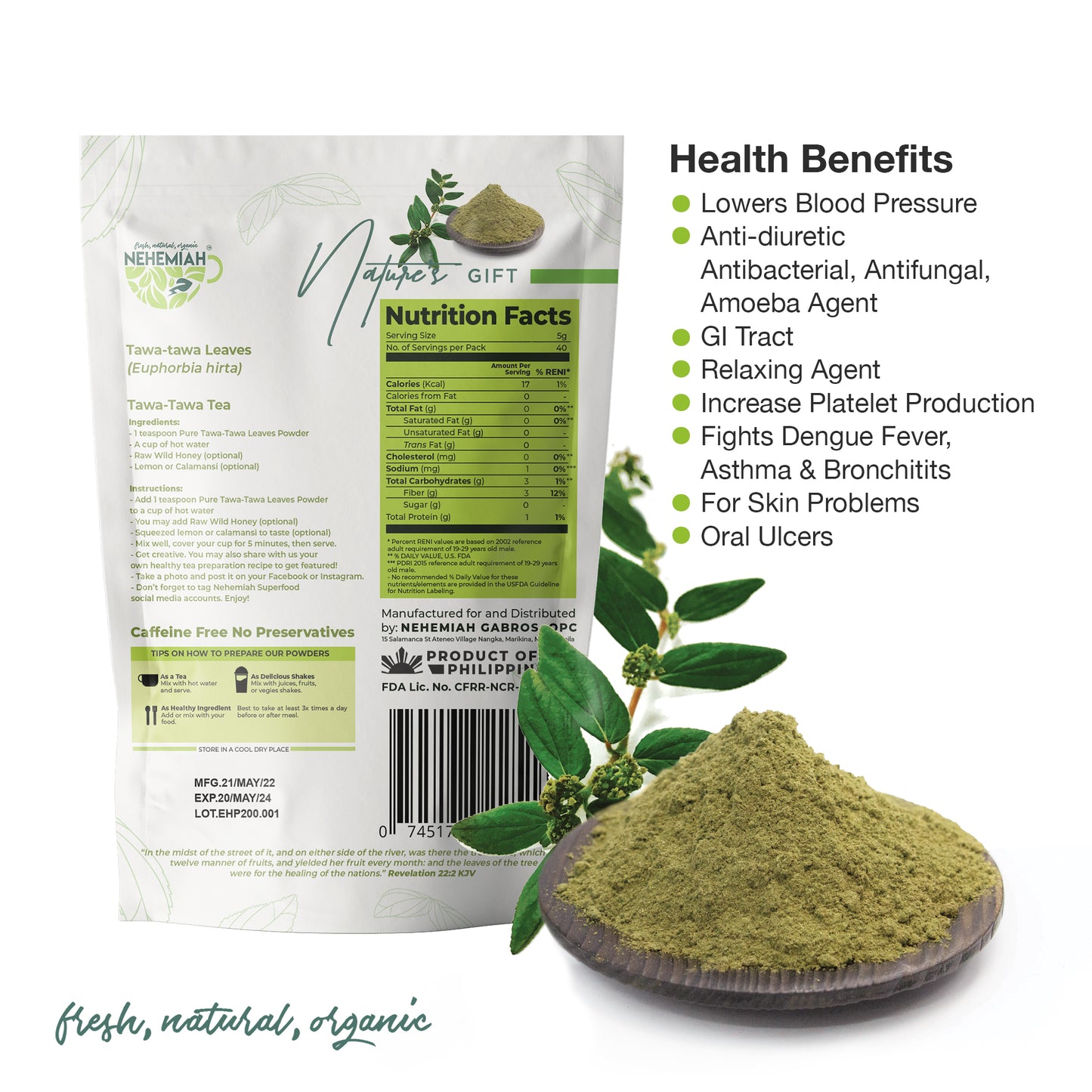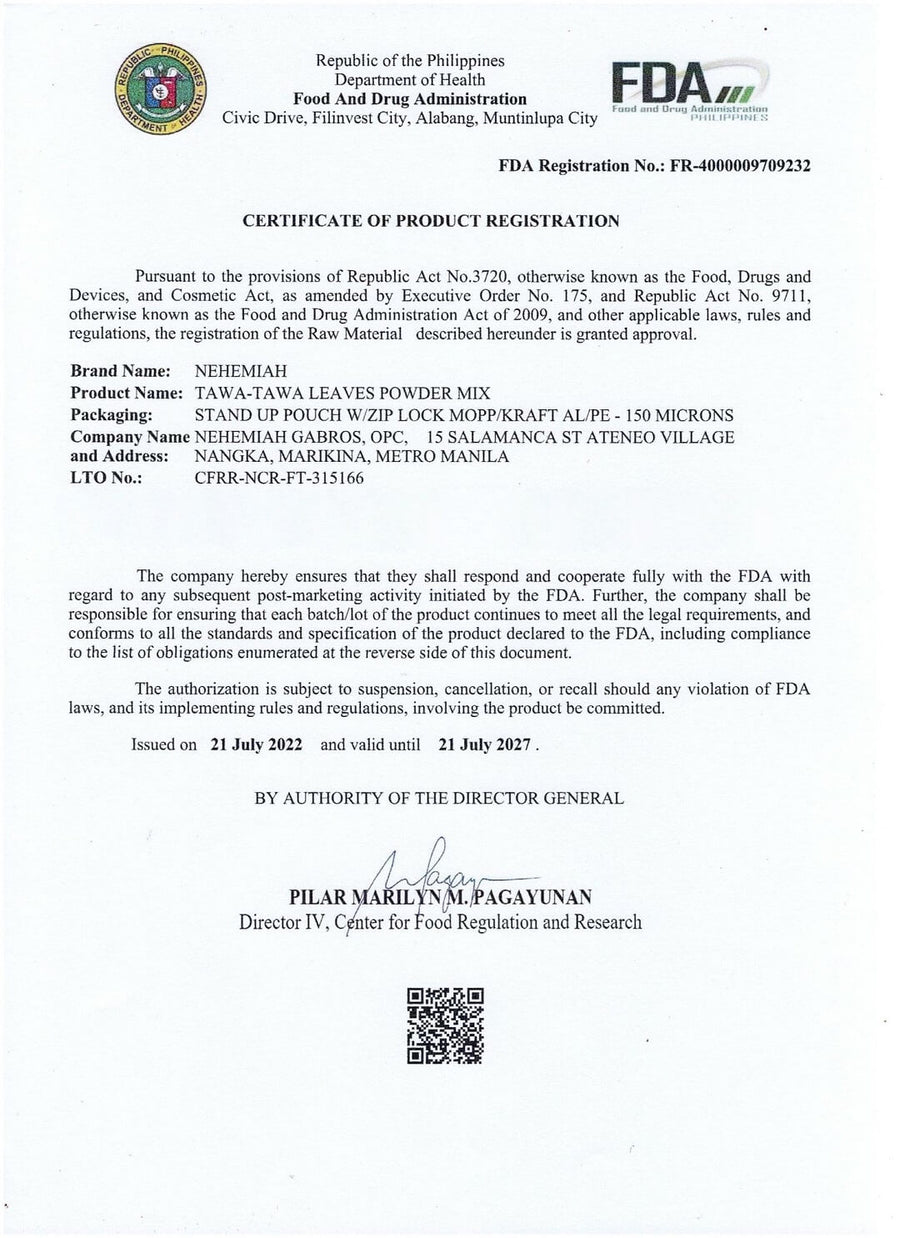 Nasugod ang pamagkin ko sa hospital dahil na dengue, kakahanap ko ng gamot online napunta ako sa website ng nehemiah superfood at nakita ko itong tawa-tawa powder nila. Same day nagawan nila ng paraan para madeliver agad sa kin ang order ko. at 3 days after uminom ng tawa-tawa powder pinalabas na ng hospital ang pamangkin ko. After 5 days na tuloy tuloy na paginum fully recovered pamangkin ko. Sayang di ko nai share sa mga nakasabay namin sa hospital kasi baka ibawal ng mga doctor kapag nakita nila ang powder. Thank you nehemiah superfood.
Aprobado ko na yan na Tawa-tawa gumaling dyan ang anak ko sa dengue kala ko mamatay na sya pero yan na Tawa-tawa ang nakapag pagaling sa anak ko.
Thank you po sa pagppdl ng order ko kahit wl p ung payment ko. Nktulong ng mlki ang pag inom ng Tawa-tawa tea 🍵 ng anak ko. S 2 days ng pag inom nya ang laki ng improvement s platelets nya. Thanks
malaking tulong ang tawatawa at honey sa aming mag asawa. as tea or halo sa pagkain yung tawatawa. mainam pala sya sa asthma.
yung honey naman relaxant sa ubo. sana less price pa ang honey.
Bought the tawa tawa to increase the platelet of my dogs as advised by our vet doctor. Happily, after giving it to my dogs, their platelet went up😍🐕🐶
Ezekiel 42:12
"...and the fruit thereof shall be for meat, and the leaf thereof for medicine."