Regular price
Sale price
₱350.00
Unit price
per
Sale
Sold out
FREE SHIPPING for orders over ₱1,000.00!

Standard shipping fee nationwide 

₱180.00

Cash On Delivery all over the Philippines!

150 grams.

Eco-friendly Resealable Pouch.

TIPS ON HOW TO PREPARE: 1.

 

You can mix it in hot water add sweetener and serve it as tea. 2.

 

You can add it in your food as well. 3.

 

You can also mix it with juices or fruit and veggies shakes.

RECOMMENDED SERVING: 2 to 3x a day. 1 or 1/2 Teaspoon only per serving.

You may follow our FB Page https://www.facebook.com/NehemiahSuperfoodPlus/ or join our FB Group: Health and Wellness Awareness - Project NEHEMIAH for some health tips and ways on how to prepare and enjoy this superfood.
Revelation 22:2

 In the midst of the street of it, and on either side of the river, was there the tree of life, which bare twelve manner of fruits, and yielded her fruit every month: and the leaves of the tree were for the healing of the nations.
We are using dehydration process to retain almost all (reduction of Vitamin C because of the process) of the original vitamins, minerals, and natural enzymes of food far better than other forms of food preservation like in capsules, liquids or other powdered process.
SAMPASAMPALUKAN, Sampa-sampalukan or Chanca piedra is an herb. The whole plant is used to make medicine.

Chanca piedra is used for various disorders of the urinary tract including infections, pain and swelling (inflammation), kidney stones, and discharge from the urethra or vagina. It is also used for digestive tract disorders including gas, loss of appetite, stomachache, intestinal infections, constipation, and dysentery.

Some people use chanca piedra as a liver tonic and for liver problems including hepatitis B. Other uses include treating diabetes, gallstones, colic, flu, high blood pressure, sore throat and swollen tonsils, swine flu, yellowing of the skin (jaundice), abdominal tumors, pain around the rectum, fever, sexually transmitted diseases such as syphilis and gonorrhea, malaria, tumors, caterpillar stings, cough, fluid retention, itching, miscarriage, tremors, typhoid, anemia, asthma, bronchitis, thirst, tuberculosis, and dizziness.
1. It has antioxidant properties
2. It has antimicrobial properties
3. It has anti-inflammatory properties
4. It may help protect against ulcers
5. It may help lower blood sugar
6. It may help prevent kidney stones
7. It may improve liver health
8. It may help treat acute hepatitis B
9. It may be anti-cancerous
CAUTION:
This herb is not recommended for pregnant or breastfeeding women.
INGREDIENTS: Pure Sampa-sampalukan.
 Anybody can be a victim of health problems. Don't be a part of statistics. Invest on your health today. Order Now!
Kindly check this additional discovery on how to administer the powder:
Pwedi rin po kung may shaker kayo using cold water or use small bottle with cup, this way hindi po lalabas ang aroma ng powder. Lagay po ang choice powder sa shaker or bottle, (add powdered milk, kung hindi lactose intolerant, brown sugar or honey, kung walang issue sa diabetic, purpose is to add taste) add small amount of cold water (gigger lang) shake well and drink straight. 1 or 1/2 teaspoon per serving.
View full details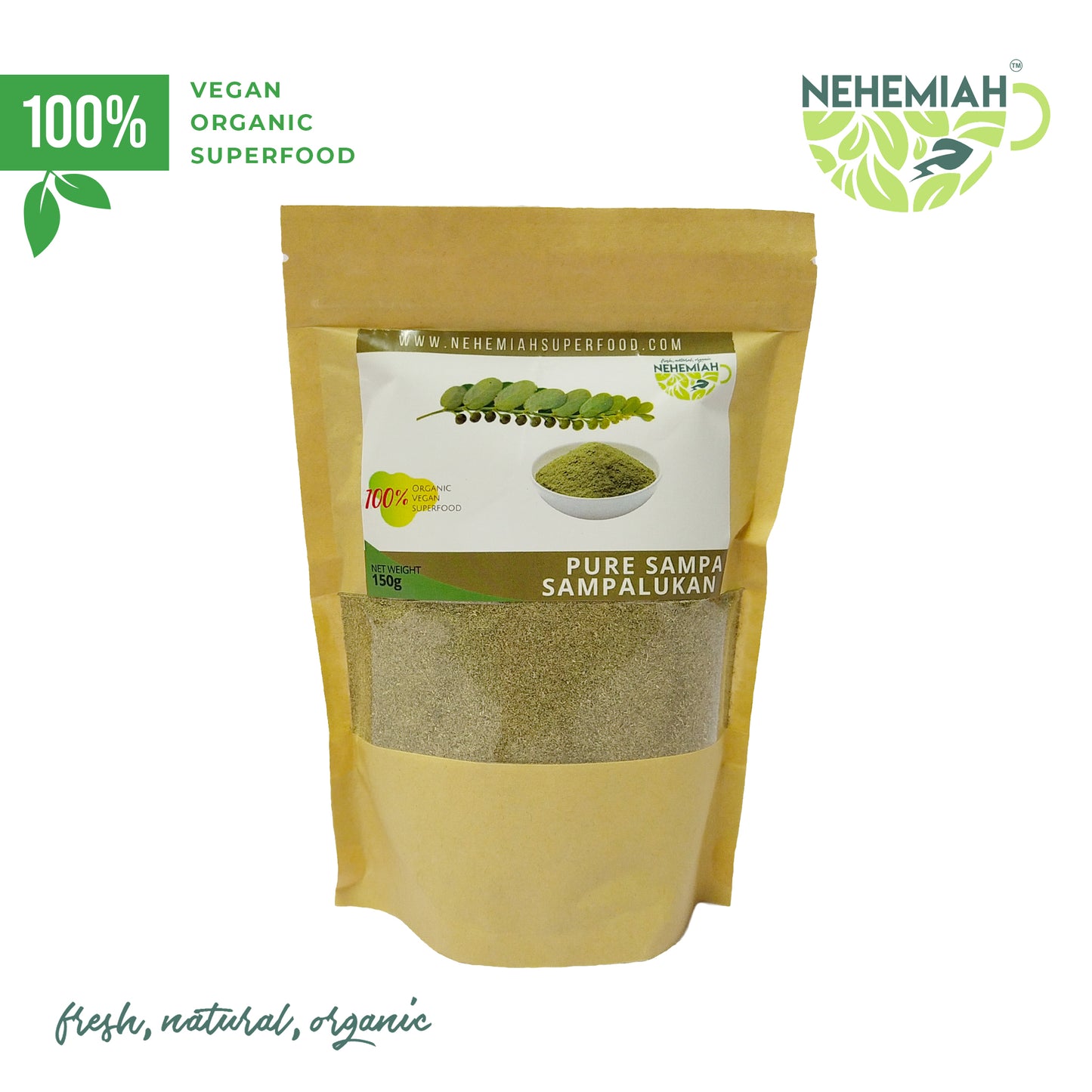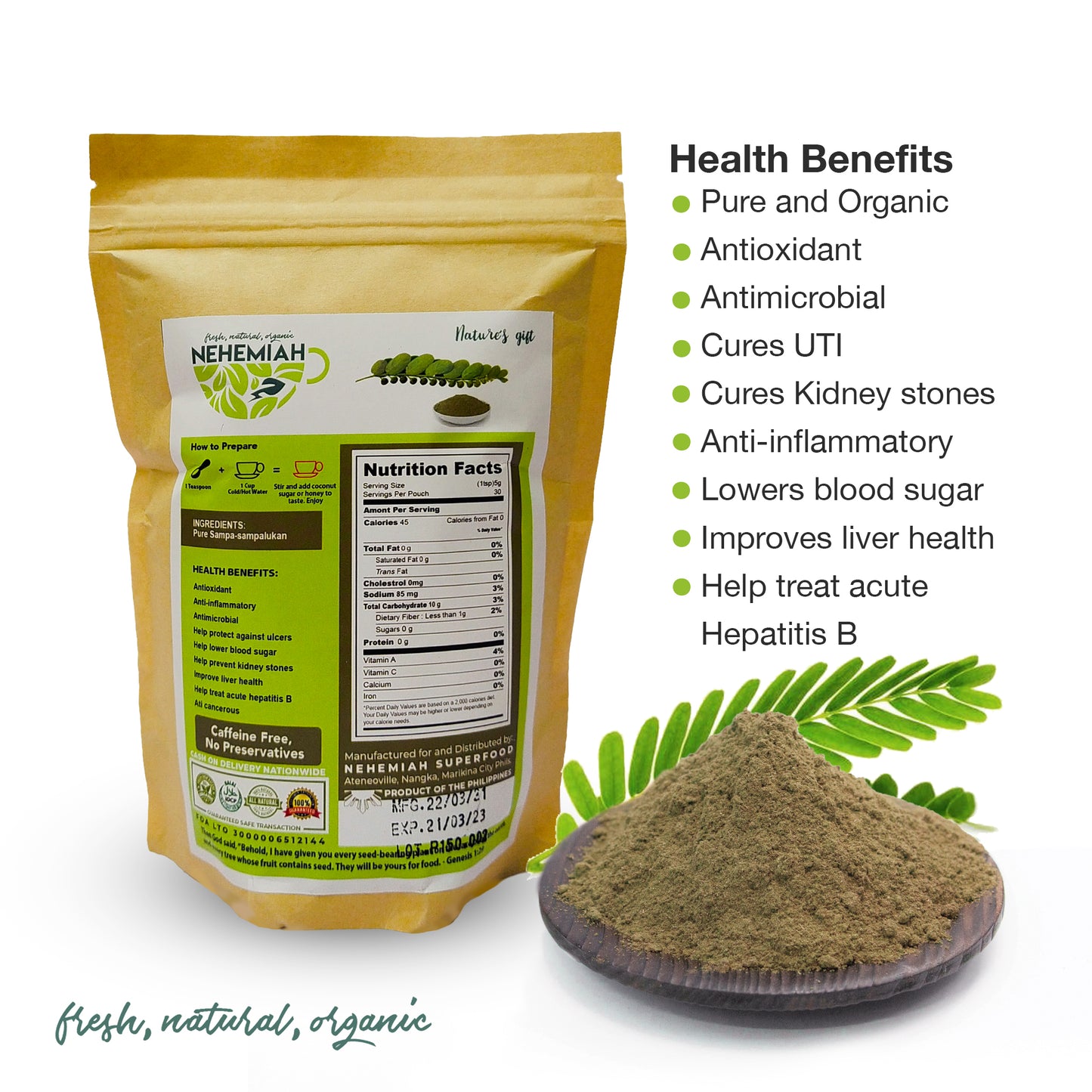 I decided change my vitamins and meds from synthetic to organic/herbal last December 2019. Ang ginagawa namin dati ay naghahanap kami ng fresh malunggay, luyang dilaw and herbal plants. Minsan mahirap kasi di sila always available in market or anywhere near us. Kaya di rin regular ang pag-take ko. One day, I learned something about sampa-sampalukan benefits to health and tried to search where I can get it and suddenly lumabas ang product ng Nemehiah Super Food. I got interested and browse in their website. Dun nakita ko na they also selling powdered Malunggay at turmeric. Napakaconvenient para sa akin ang bumili ng product nila rather than maghanap kung saan saan ng fresh nito. Plus... talaga namang pure ang product nila at maganda ang quality. Three times a week akong umiinom ng sampa-sampalukan to regulate my menstruation at makatulong sa PCOS ko. Atleast once or twice a day naman sa malunggay at turmeric na madalas hinahalo ko sa no added sugar milk ko para sa every intake of vitamins. So far masigla naman ako kahit stay awake ako all night due to work. These foods are really amazing. Kaya di na ako kailangang bumili pa ng mga mamahaling gamot at vitamins
Ezekiel 42:12
"...and the fruit thereof shall be for meat, and the leaf thereof for medicine."