Regular price
Sale price
₱320.00
Unit price
per
Sale
Sold out
LOVE IT OR WE WILL REFUND YOUR MONEY - We don't think you should pay for products that will not benefit you. Our Pure and Organic Moringa Powder is very effective. Follow our tips and recommendation - If you aren't experiencing the health benefits of our products, simply let us know and we will refund your order - it's as easy as that!

TIPS ON HOW TO PREPARE: 1. You can mix it in hot water add sweetener and serve it as tea. 2. You can add it in your food as well. 3. You can also mix it with juices or fruit and veggies shakes.
RECOMMENDED SERVING: 3 to 4x a day. 1 or 1/2 Teaspoon only per serving. Can be taken before or after meal. Very safe on empty stomach.
FREE SHIPPING for orders over ₱1,000.00! Standard shipping fee nationwide ₱180.00
Cash On Delivery all over the Philippines! Order now and pay when our riders deliver your order.
Eco-friendly Resealable Pouch.
100% Natural, Pure and Raw, 200 grams, Moringa Leaf Powder helps stabilize your mood and protects brain health.
Moringa is a rich source of vitamins, minerals, and amino acids. It contains significant amounts of vitamin A, C, and E; Calcium, Potassium, and Protein.
The highest quality, certified organic products at fair prices to help you live healthy & feel good.
Moringa contains 3x more iron than spinach, Increases the Natural Defense of the body and Improves the Immune system.
Made from natural materials and free from harmful chemicals and synthetic materials, safe for you & your family.
Best Gift for Everyone Who Needs to be Healthy.
You may follow our FB Page https://www.facebook.com/NehemiahSuperfoodPlus or join our FB Group: Health and Wellness Awareness - Project NEHEMIAH for some health tips and ways on how to prepare and enjoy this superfood.
Revelation 22:2 In the midst of the street of it, and on either side of the river, was there the tree of life, which bare twelve manners of fruits, and yielded her fruit every month: and the leaves of the tree were for the healing of the nations.
 WHY CHOOSE NEHEMIAH SUPERFOOD? We are using dehydration process to retain almost all (slight reduction of Vitamin C because of the process) of the original vitamins, minerals, and natural enzymes of food far better than other forms of food preservation like in capsules, liquids or other powdered process.
MORINGA OLEIFERA (Malungay), Horseradish or locally known as Malunggay, is widely used as a vegetable ingredient in cooking. It is a popular plant known for high nutritional value as well as an herbal medicine a number of illness and other practical uses.
Shocking Health Benefits of Moringa or Malunggay most Doctor's won't tell you:
Produces milk for Nursing Mothers
Boosts Immune System
Reduces scalp problems
Aids Asthma
Rejuvenates the skin
Lowers hypertension
Serves as a relaxant
Prevents and aids Diabetes
Anti-inflammatory
Anti-cancer
Source of calcium
Boosts fertility
Fights Skin Disease
Enhances vision
Aids stomach problems
CAUTION: NOT ADVISABLE FOR PREGNANT.
INGREDIENTS: Pure natural malunggay (moringa).
Anybody can be a victim of health problems. Don't be a part of statistics. Invest on your health today before it's too late!
Kindly check this additional discovery on how to administer the powder:
Pwedi rin po kung may shaker kayo using cold water or use small bottle with cup, this way hindi po lalabas ang aroma ng powder. Lagay po ang choice powder sa shaker or bottle, (add powdered milk, kung hindi lactose intolerant, brown sugar or honey, kung walang issue sa diabetic, purpose is to add taste) add small amount of cold water (gigger lang) shake well and drink straight. 1 or 1/2 teaspoon per serving.
View full details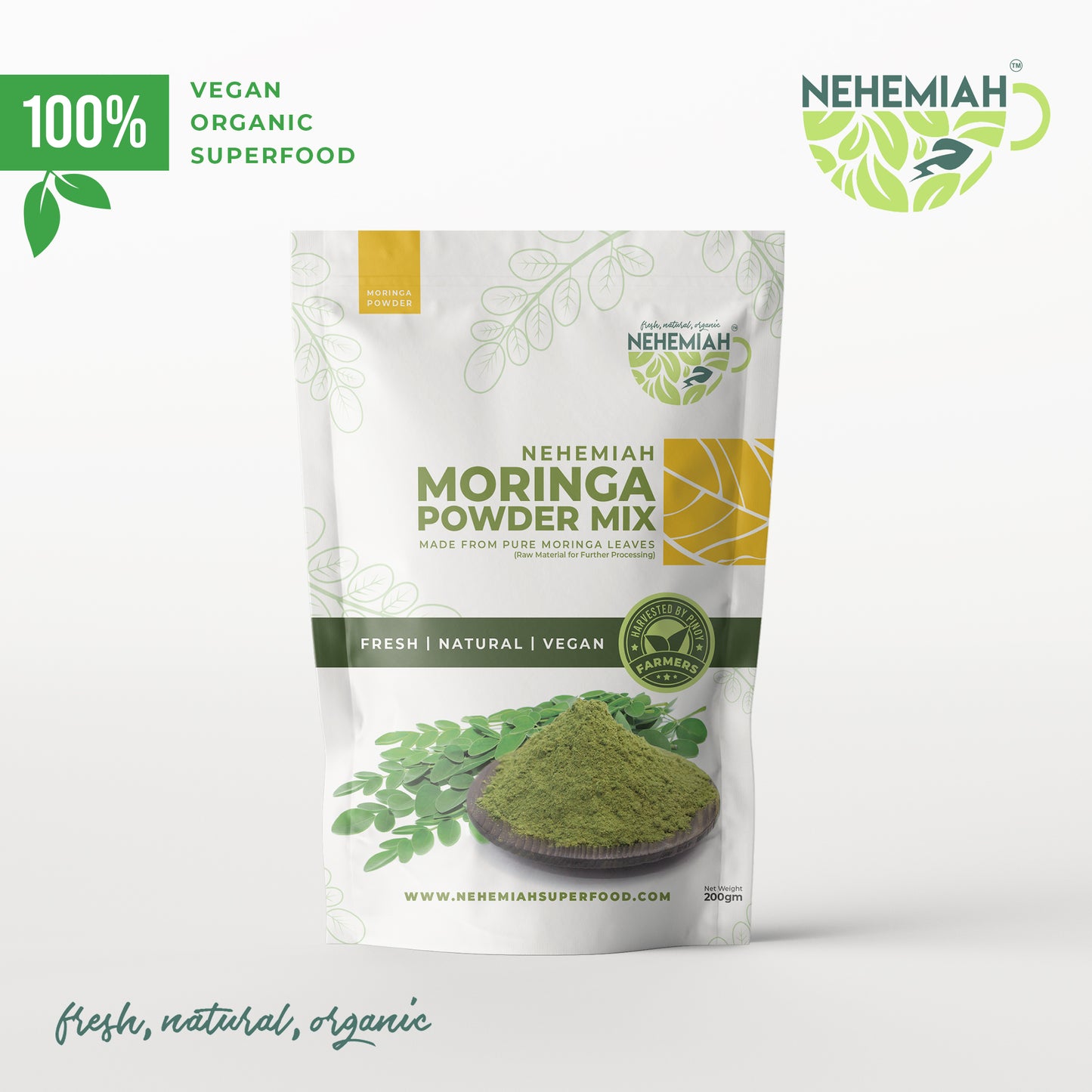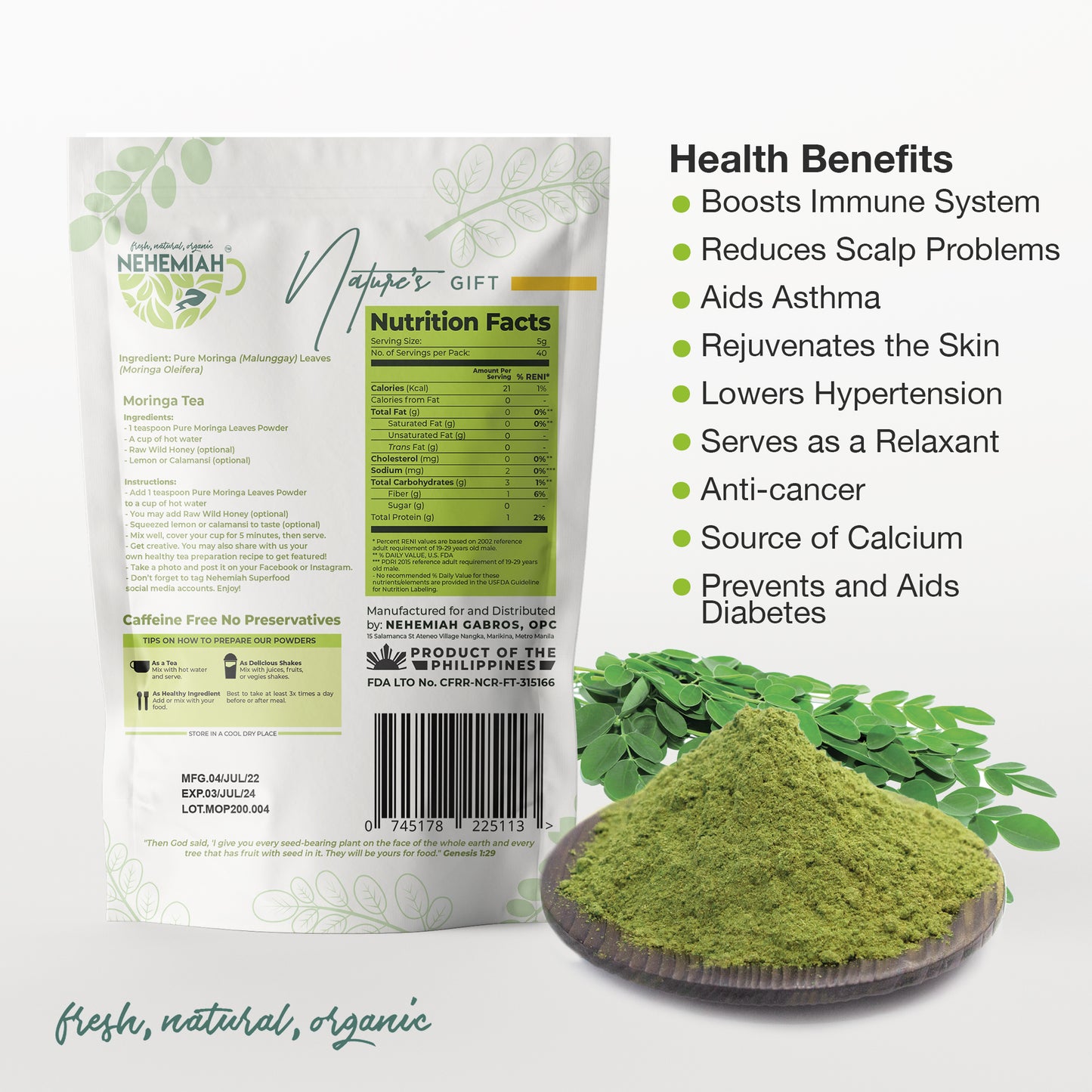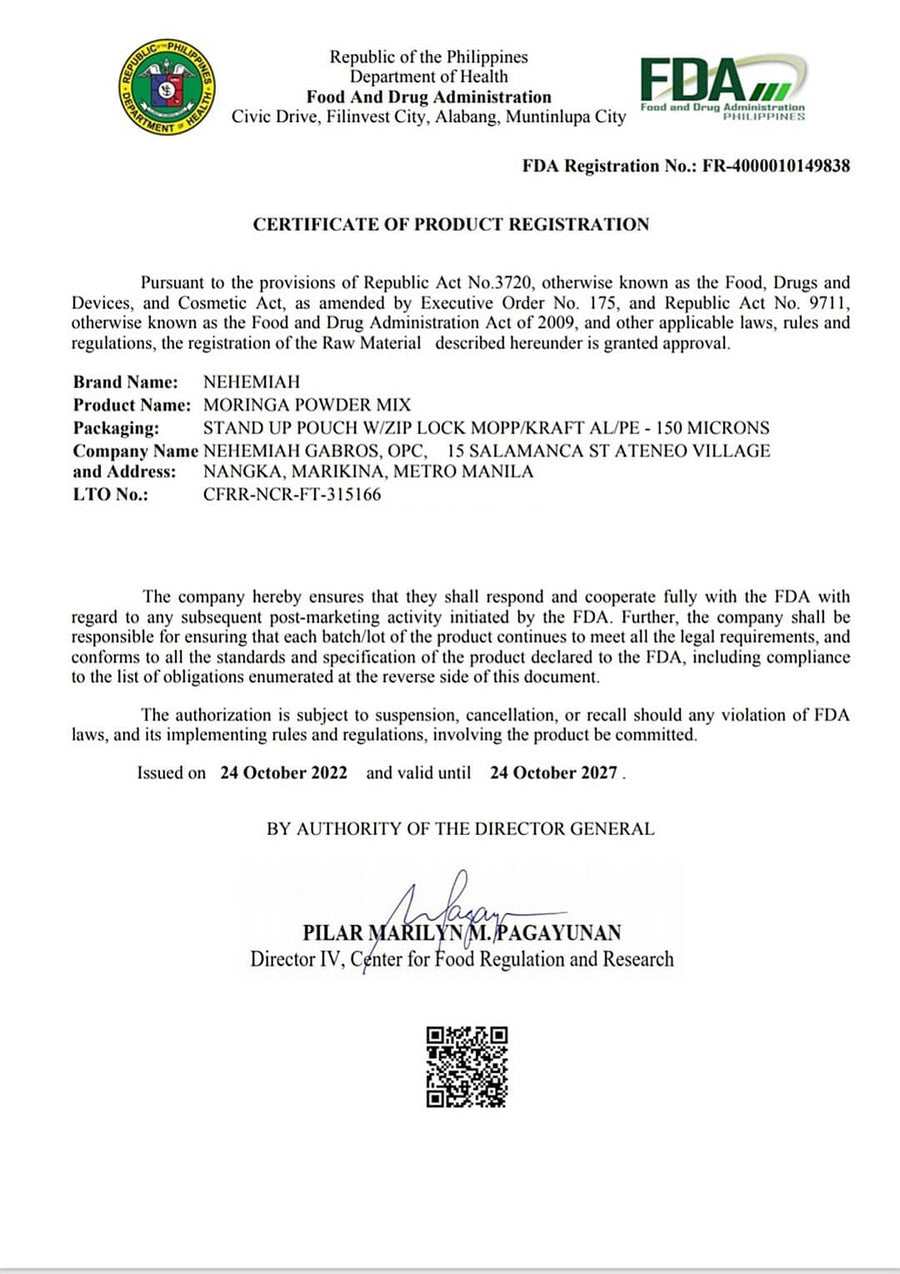 my secret for being healthy & strong 💪
'since 2020 p ko umiinom ng nehemiah superfood products kxe maganda ang epekto s aking kalusugan, bilang isang trekker at trail runner ay nanatili ang aking lakas at stamina.. kya patuloy akong iinom ng knilang produkto 🙂
Hi po nakabili po ako.ng coffee bean mix po. Kaya nahirapan ako naghanap sa inyo kc nagustuhan ko.po maganda hiyang sa aking katawan pag ini inom ko hindi tumaas ang aking blood sugar kaya salamat at natagpuan ko uli kayo para makabili po. Sabi nyo my senor citizen discount pwede po ba para makakuha ng 5packs.thank you po.
Makes me more energetic..😍😊
Living a healthy lifestyle...
hirap talaga ako mag papayat. and i try to take coffee mix . konti konti nang nababawasan ang timbang ko. highly recommend this products sa mga kagaya ko hirap mag papayat, syempre samahan ng healthy foods.
Ezekiel 42:12
"...and the fruit thereof shall be for meat, and the leaf thereof for medicine."