Regular price
Sale price
₱450.00
Unit price
per
Sale
Sold out
FREE SHIPPING for orders over ₱1,000.00!

Standard shipping fee nationwide 

₱180.00

Cash On Delivery all over the Philippines!

200 grams.

50 grams.

Eco-friendly Resealable Pouch.

TIPS ON HOW TO PREPARE: 1.

 

You can mix it in hot water add sweetener and serve it as tea. 2.

 

You can add it in your food as well. 3.

 

You can also mix it with juices or fruit and veggies shakes.

RECOMMENDED SERVING: 2 to 3x a day. 1 or 1/2 Teaspoon only per serving.

You may follow our FB Page https://www.facebook.com/NehemiahSuperfoodPlus or join our FB Group: Health and Wellness Awareness - Project NEHEMIAH for some health tips and ways on how to prepare and enjoy this superfood.
Revelation 22:2

 In the midst of the street of it, and on either side of the river, was there the tree of life, which bare twelve manner of fruits, and yielded her fruit every month: and the leaves of the tree were for the healing of the nations.
We are using dehydration process to retain almost all (reduction of Vitamin C because of the process) of the original vitamins, minerals, and natural enzymes of food far better than other forms of food preservation like in capsules, liquids or other powdered process.
Lagundi, also known as Negundo Chaste Tree, Cut-Leaf Chaste Tree, Five-Leaved Chaste Tree, Indian Privet, Horseshoe Vitex, Lenggundi, Nirgundi, Sindvar, Negundo, Dabtan, Dangla, Khemao, etc. is a large shrub recognized for its wide variety of health benefits. The scientific name of this plant is Vitex negundo.

It has been used as a traditional herbal medicine since centuries. The Philippine Department of Health, too, has included lagundi in its list of 10 medicinal plants with clinically proven medicinal values.

Lagundi is native to the Philippines, in fact it is usually seen in swamps in the Philippines. It grows in tropical, subtropical, and warm temperate regions of the world.
HEALTH BENEFITS:
1. Relieves Digestive Troubles.
2. Tonic for Liver.
3. Treats Respiratory Complaints.
4. Heals Skin Diseases.
5. Analgesic for Pain Relief.
6. Anti virus.
7. Helps cure lung problems.
Ingredients: Pure natural lagundi.
Anybody can be a victim of health problems. Don't be a part of statistics. Invest in your health today. Order Now!
Kindly check this additional discovery on how to administer the powder:

Pwedi rin po kung may shaker kayo using cold water or use small bottle with cup, this way hindi po lalabas ang aroma ng powder. Lagay po ang choice powder sa shaker or bottle, (add powdered milk, kung hindi lactose intolerant, brown sugar or honey, kung walang issue sa diabetic, purpose is to add taste) add small amount of cold water (gigger lang) shake well and drink straight. 1 or 1/2 teaspoon per serving.
View full details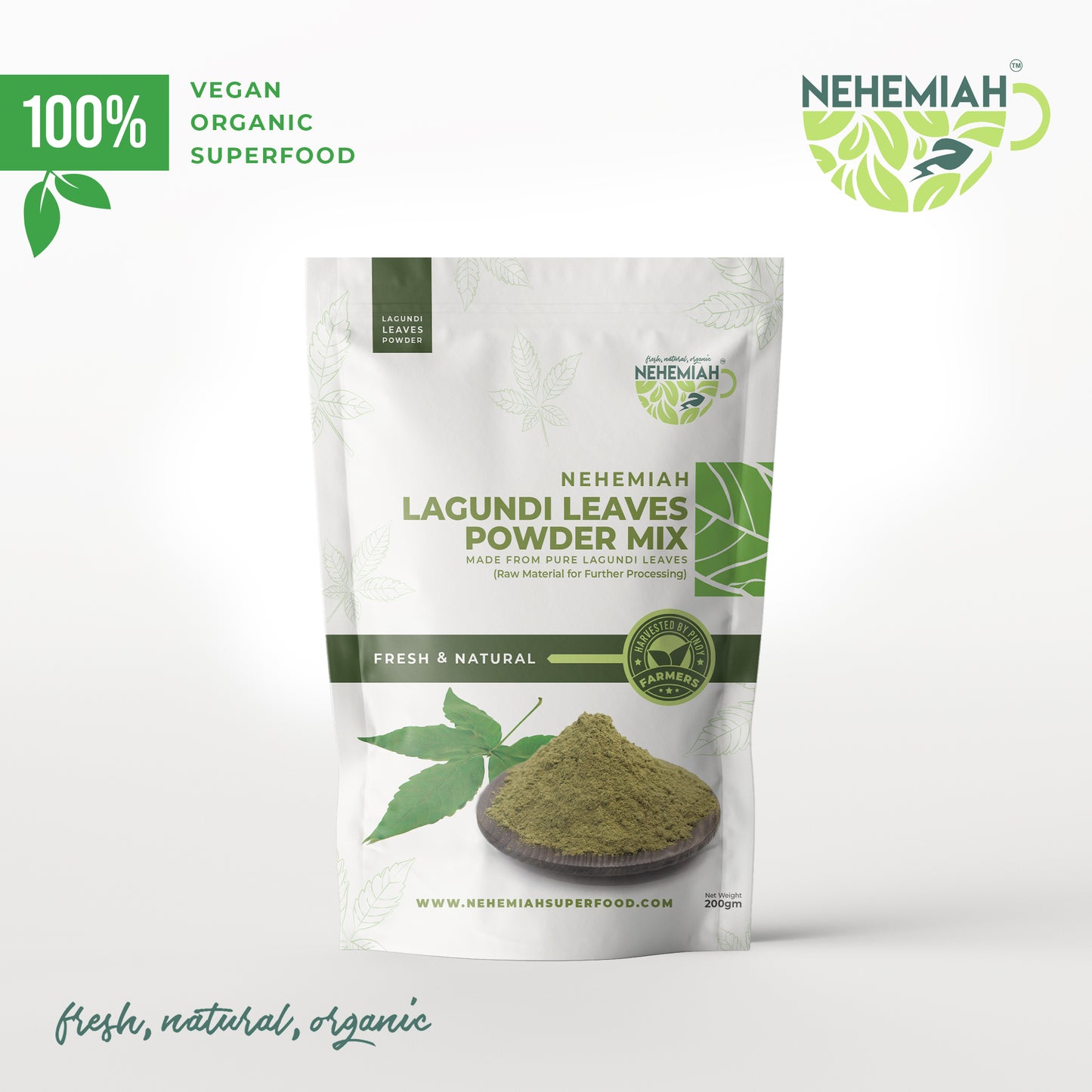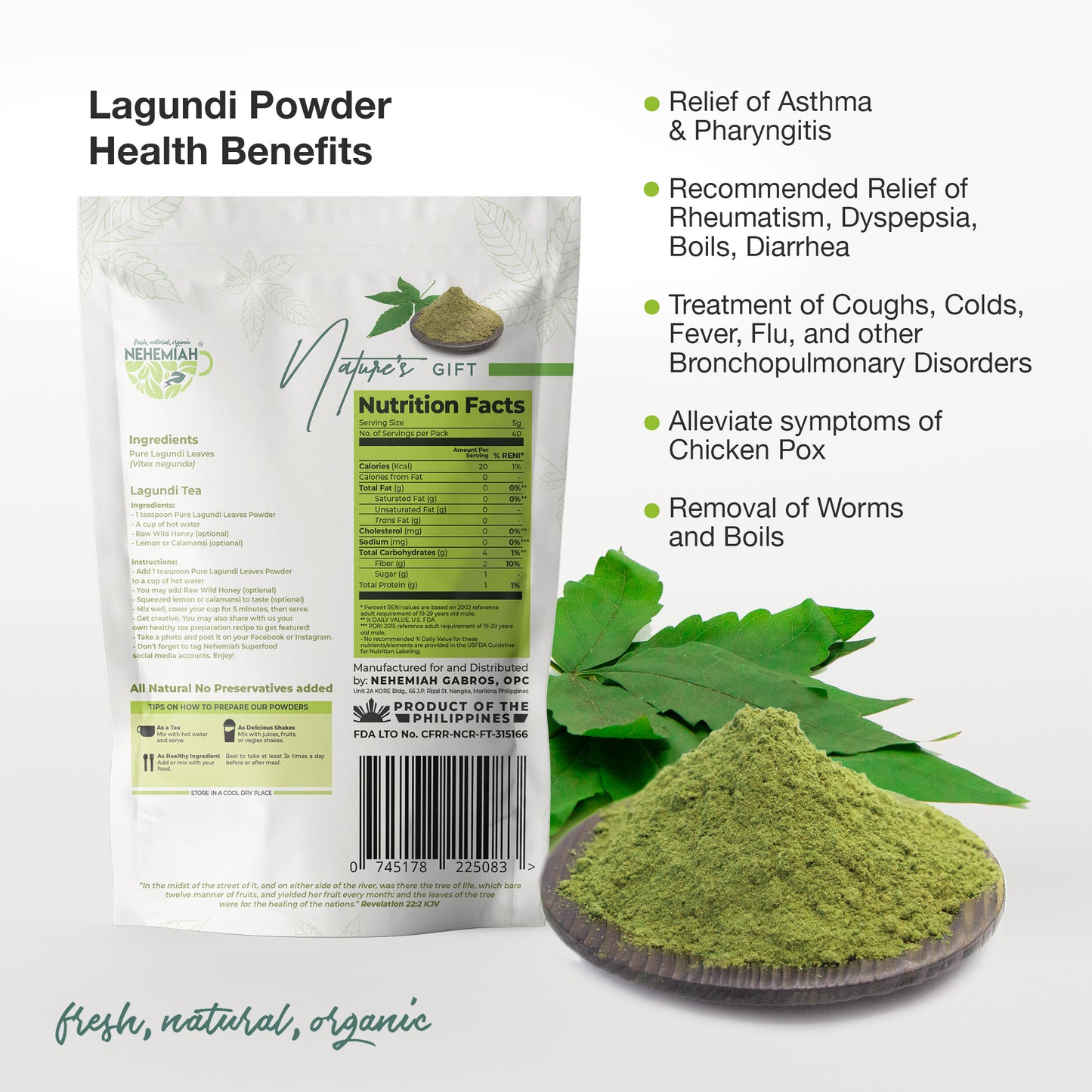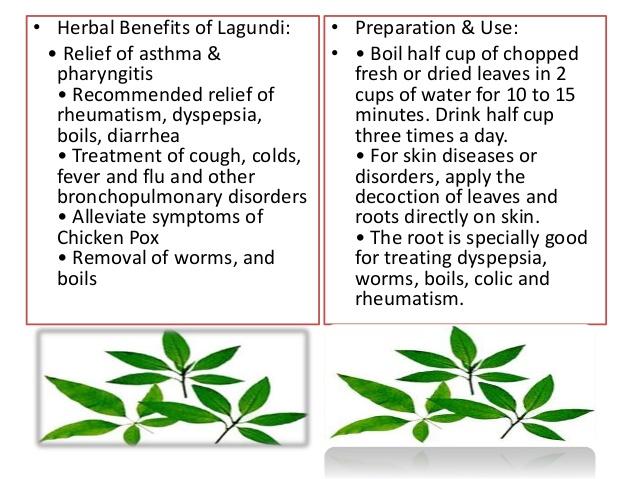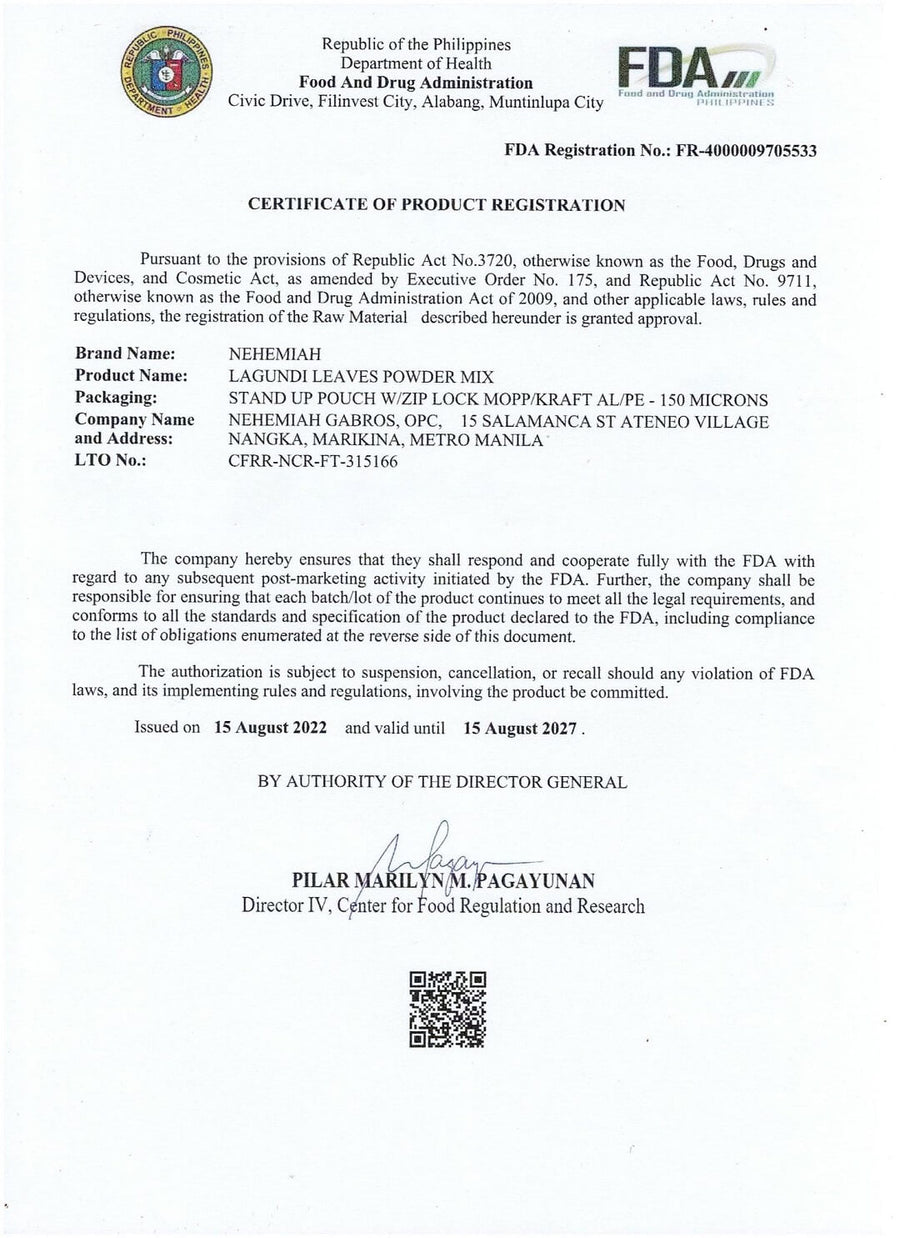 Hi good morning, Im Beth Maravilla using Nehemiah Superfood everyday for my breakfast, hinahalo ko sya sa aking Oatmeal, its boost my immune system. Thank you Nehemiah Superfood .❤🙏
Maganda talaga ang mga products ng Nehemiah. Umiinom ako ng malunggay, mangosteen, turmeric, guyabano capsules. Also, lagundi powder & green coffee mix
malaking tulong sakin ang pag inom ko ng lagundi powder, sobrang bilis ng pag galing nang ubo ko lalo na ngayun malamig panahon uso ang ubo at sipon, highly recommend ang lagundi powder , thank you :)
Kasalukuyang ginagamit po yung product nyo .Ayos naman po lalo na yung Lagundi, effective siya sa ubo.
Salamat po
I love your products very effective. When my Mom got covid symptoms I gave her lagundi right away. We did not spend a lot and we save her life.
Ezekiel 42:12
"...and the fruit thereof shall be for meat, and the leaf thereof for medicine."