Regular price
Sale price
₱350.00
Unit price
per
Sale
Sold out
10 Tea bags per pouch. 1g per Tea bag.

Pure and Organic Insulin Powder - 100 grams per resealable pouch.

FREE SHIPPING for orders over ₱1,000.00!

Standard shipping fee nationwide 

₱180.00

Cash On Delivery all over the Philippines!

Eco-friendly Resealable Pouch.

You may follow our FB Page https://www.facebook.com/NehemiahSuperfoodPlus or join our FB Group: Health and Wellness Awareness - Project NEHEMIAH for some health tips and ways on how to prepare and enjoy this superfood.
Revelation 22:2

 In the midst of the street of it, and on either side of the river, was there the tree of life, which bare twelve manner of fruits, and yielded her fruit every month: and the leaves of the tree were for the healing of the nations.
We are using dehydration process to retain almost all (reduction of Vitamin C because of the process) of the original vitamins, minerals, and natural enzymes of food far better than other forms of food preservation like in capsules, liquids or other powdered and in teabag process.
The leaves of Insulin Plant contain corosolic acid which helps to generate insulin thereby treating diabetes. It is believed that consumption of the insulin plant leaves helps lower the blood glucose levels, and diabetics who consumed the leaves of this plant report a fall in their blood glucose levels.
Spiral flag or fiery costus (Chamaecostus cuspidatus) is called as insulin plant for its anti-diabetic properties.

It is widely used in herbal medicine and Ayurveda.

Though it is primarily used for treating diabetes, it is also helpful for patients of hypertension and kidney problems.

Here are the health benefits of insulin plant:
Insulin plant regulates high sugar levels in your blood. Regular consumption of these leaves prevents the onset of severe health problems due to diabetes.

It improves digestion by acting as a natural prebiotic. It promotes the growth of good bacteria in the gut.

The plant has antioxidant properties which help in destroying free radicals and protects body from several health disorders.

Insulin plant has sodium and water retention capacity. It has diuretic property. Hence, it can improve the health of your bladder as well kidney.

It can protect your body from bacterial infections due to its antibacterial properties. Its antioxidants improve immunity.

As the plant can break down the fat deposits and unnecessary toxins in the liver, it can treat liver problems.

Some studies showed that the insulin plant has anti-proliferative and anti-cancerous properties. So, it can prevent cancer.

It also can reduce cholesterol levels in the blood. And thereby, prevent cardiovascular diseases.

Due to its anti-inflammatory properties, it can treat sore throat. It is also beneficial for asthma.

Dosage of insulin plant varies with each person due to his or her physical condition. Yet, the normal recommended dosage is twice a day.

Avoid direct consumption of the leaves due to its strong taste.

Insulin plant can be consumed as a potion i.e. the extract of clean and dried leaves or tea made with leaves. You can add honey to taste.

Pregnant women and lactating mothers should avoid the consumption of insulin plant.
INGREDIENTS: Pure and Organic Insulin Plant Leaf/ Leaves
Anybody can be a victim of health problems. Don't be a part of statistics. Invest on your health today. Order Now!
View full details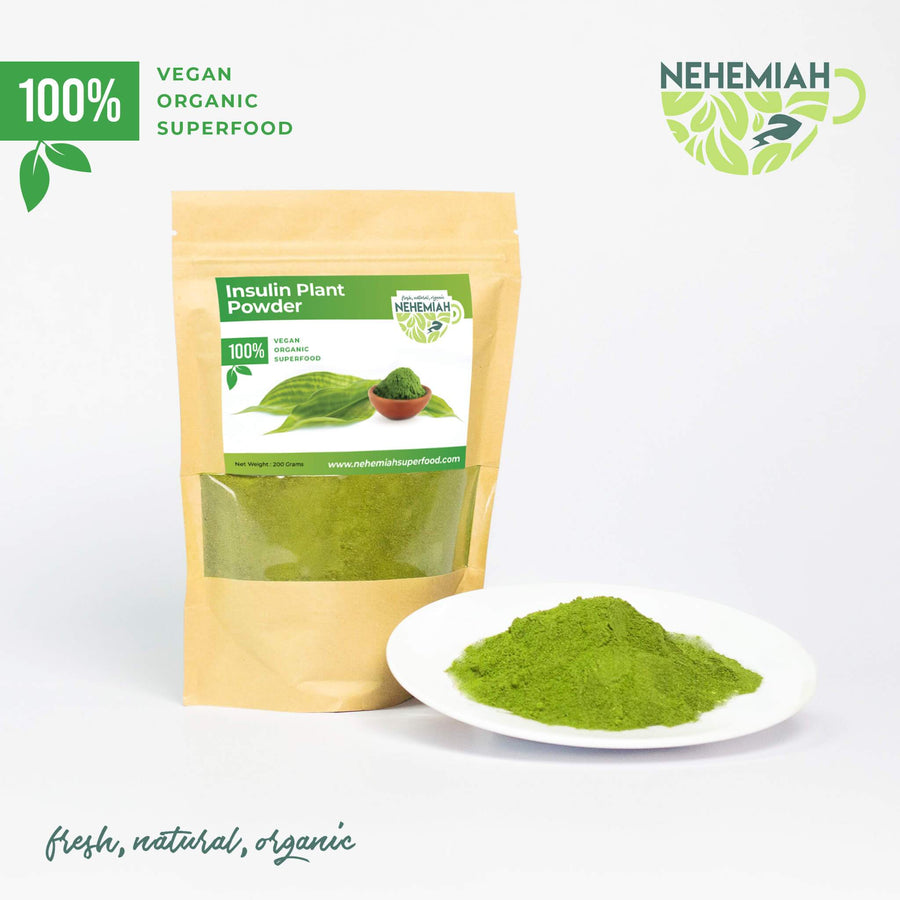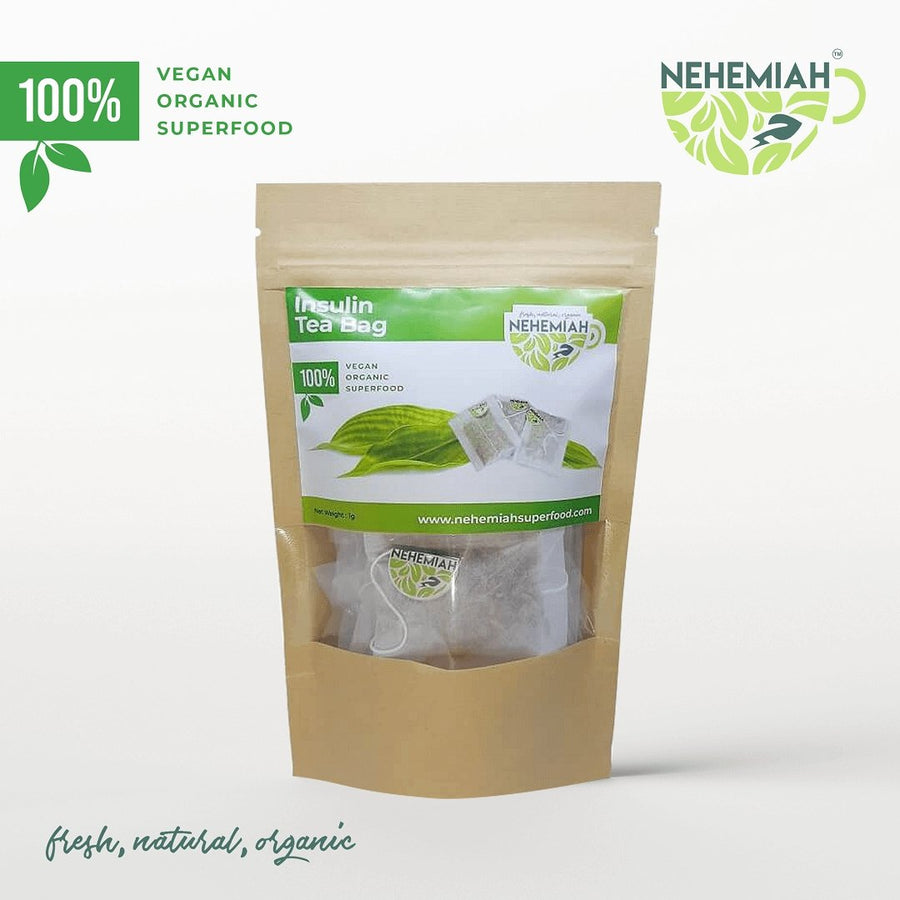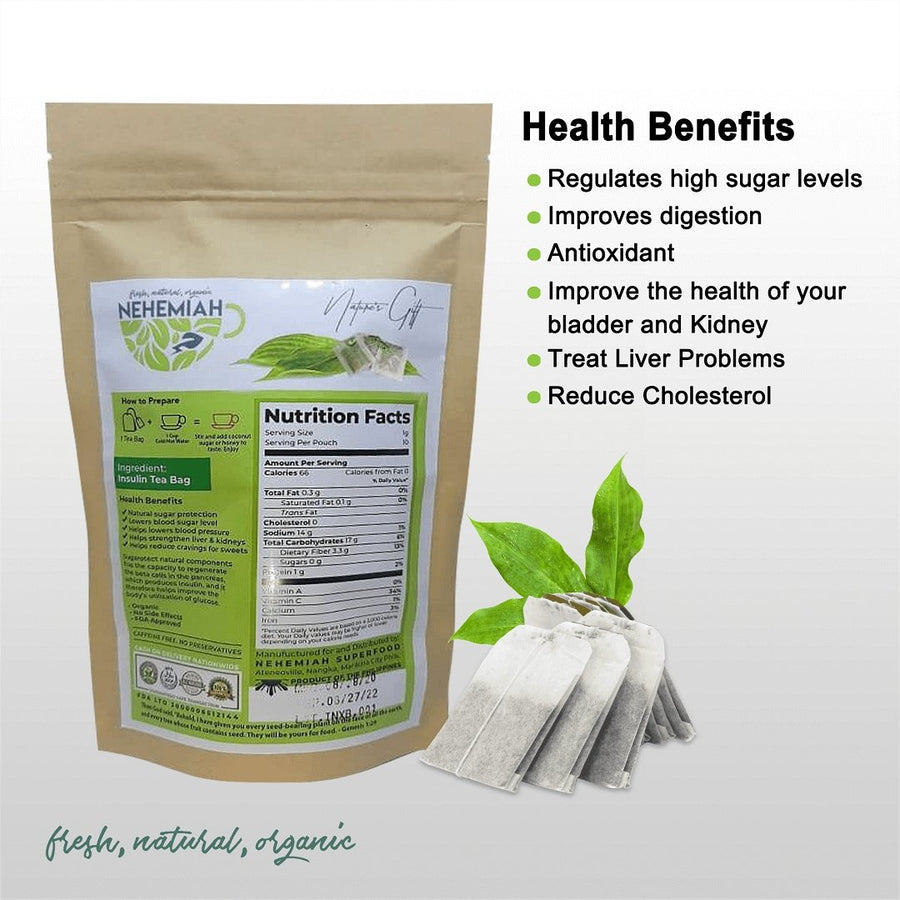 Ezekiel 42:12
"...and the fruit thereof shall be for meat, and the leaf thereof for medicine."