Regular price
Sale price
₱380.00
Unit price
per
Sale
Sold out
FREE SHIPPING for orders over ₱1,000.00!

Standard shipping fee nationwide 

₱180.00

Cash On Delivery all over the Philippines!

200 grams.

Eco-friendly Resealable Pouch.

TIPS ON HOW TO PREPARE: 1.

 

You can mix it in hot water add sweetener and serve it as tea. 2.

 

You can add it in your food as well. 3.

 

You can also mix it with juices or fruit and veggies shakes.

RECOMMENDED SERVING: 2 to 3x a day. 1 or 1/2 Teaspoon only per serving.

You may follow our FB Page https://www.facebook.com/NehemiahSuperfoodPlus or join our FB Group: Health and Wellness Awareness - Project NEHEMIAH for some health tips and ways on how to prepare and enjoy this superfood.
Revelation 22:2

 In the midst of the street of it, and on either side of the river, was there the tree of life, which bare twelve manner of fruits, and yielded her fruit every month: and the leaves of the tree were for the healing of the nations.
We are using dehydration process to retain almost all (reduction of Vitamin C because of the process) of the original vitamins, minerals, and natural enzymes of food far better than other forms of food preservation like in capsules, liquids or other powdered process.
Health Benefits of Guava Leaves:
1. Diarrhea
Guava-leaf extracts inhibit the growth of Staphylococcus aureus bacteria, a common cause of diarrhea. People suffering from diarrhea who drink guava leaf tea may experience less abdominal pain, fewer and less watery stools, and a quicker recovery, according to Drugs.com. Add the leaves and root of guava to a cup of boiling water, strain the water and consume it on an empty stomach for quick relief.
2. Lowers Cholesterol

LDL or Low-density lipoprotein are one of the five major groups of lipoproteins which transport all fat molecules throughout your body. It is the excess of this class of cholesterol that may cause a host of health disorders particularly that of heart. According to an article published in Nutrition and Metabolism, study participants who drank guava leaf tea had lower cholesterol levels after eight weeks.
3. Manages Diabetes

Guava leaves tea helps prevent and treat diabetes. The compounds in the tea help regulate blood sugar levels after meals, by inhibiting the absorption of two types of sugars - sucrose and maltose. According to an article published in Nutrition and Metabolism, guava leaf tea inhibits several different enzymes that convert carbohydrate in the digestive tract into glucose, potentially slowing its uptake into your blood.

4. Promotes Weight Loss

Looking to shed the extra inches around your belly? Sip into guava leaf tea. Guava leaves help prevent complex carbs from turning into sugars, promoting rapid weight loss. Drink guava leaves tea or juice regularly to reap the benefits.
5. Fights Cancer

Guava leaves can lower the risk of cancer - especially breast, prostate, and oral cancers - due to high quantities of the antioxidant lycopene. Various studies have revealed that lycopene plays a significant role in lowering the risk of cancer.
6. Heals Cold and Cough

Guava leaves contain high levels of Vitamin C and iron, and a decoction of guava leaves is very helpful in relieving cough and cold as it helps get rid of mucus. It also disinfects the respiratory tract, throat and lungs.

7. Reduces Acne

Due to their high percentage of Vitamin C, guava leaves can help get rid of acne when crushed and applied to trouble spots.
8. Improves Skin Texture

Guavas have high astringent properties, and guava leaves rank even higher. Apply a decoction of the leaves on your skin to help tone and tighten facial muscles.
9. Beats Toothache

Guava leaves are anti inflammatory in nature and help in maintaining good oral health. Guava leaf tea works as a fantastic home remedy for toothache, swollen gums and oral ulcers due to the powerful antibacterial agents. You can also grind the leaves into a paste and apply it to your gums and teeth to cure these problems.

10. Improves Quality of Sleep

Drinking guava leaf tea regularly helps improve quality of sleep. It calms your nerves and quietens your mind, making it easier to slip into slumber.

11. Boosts Immunity

According to Bangalore-based Nutritionist Dr. Anju Sood, "guava leaf tea helps boost the immune system", thereby reducing the risk of various illnesses.

12. Soothes Gastrointestinal Issues

Guava leaves are useful in treating gastrointestinal issues because they reduce the production of extra mucus that can irritate the digestive system, and prevent further microbial growth in the intestines due to anti-bacterial properties.
13. Promotes Heart Health

Guava leaf tea may also benefit your heart and circulatory system.

14. Good for Your Brain

Guava leaves contain vitamin B3 (niacin) and vitamin B6 (pyridoxine), which help in improving blood circulation to the brain, stimulating cognitive function and relaxing the nerves.

INGREDIENTS: Pure natural organic guava leaves.
Anybody can be a victim of health problems. Don't be a part of statistics. Invest on your health today. Order Now!
Kindly check this additional discovery on how to administer the powder:
Pwedi rin po kung may shaker kayo using cold water or use small bottle with cup, this way hindi po lalabas ang aroma ng powder. Lagay po ang choice powder sa shaker or bottle, (add powdered milk, kung hindi lactose intolerant, brown sugar or honey, kung walang issue sa diabetic, purpose is to add taste) add small amount of cold water (gigger lang) shake well and drink straight. 1 or 1/2 teaspoon per serving.
View full details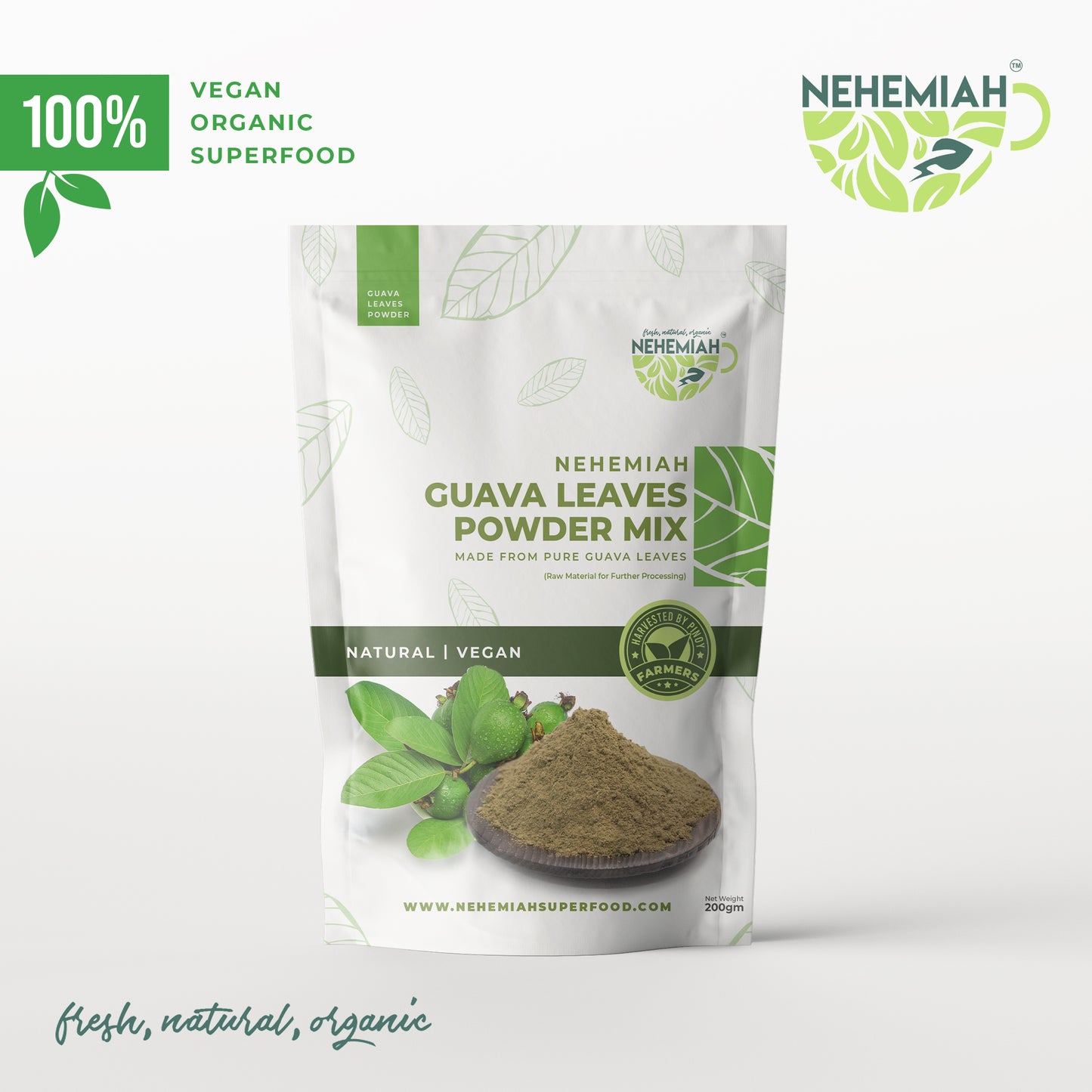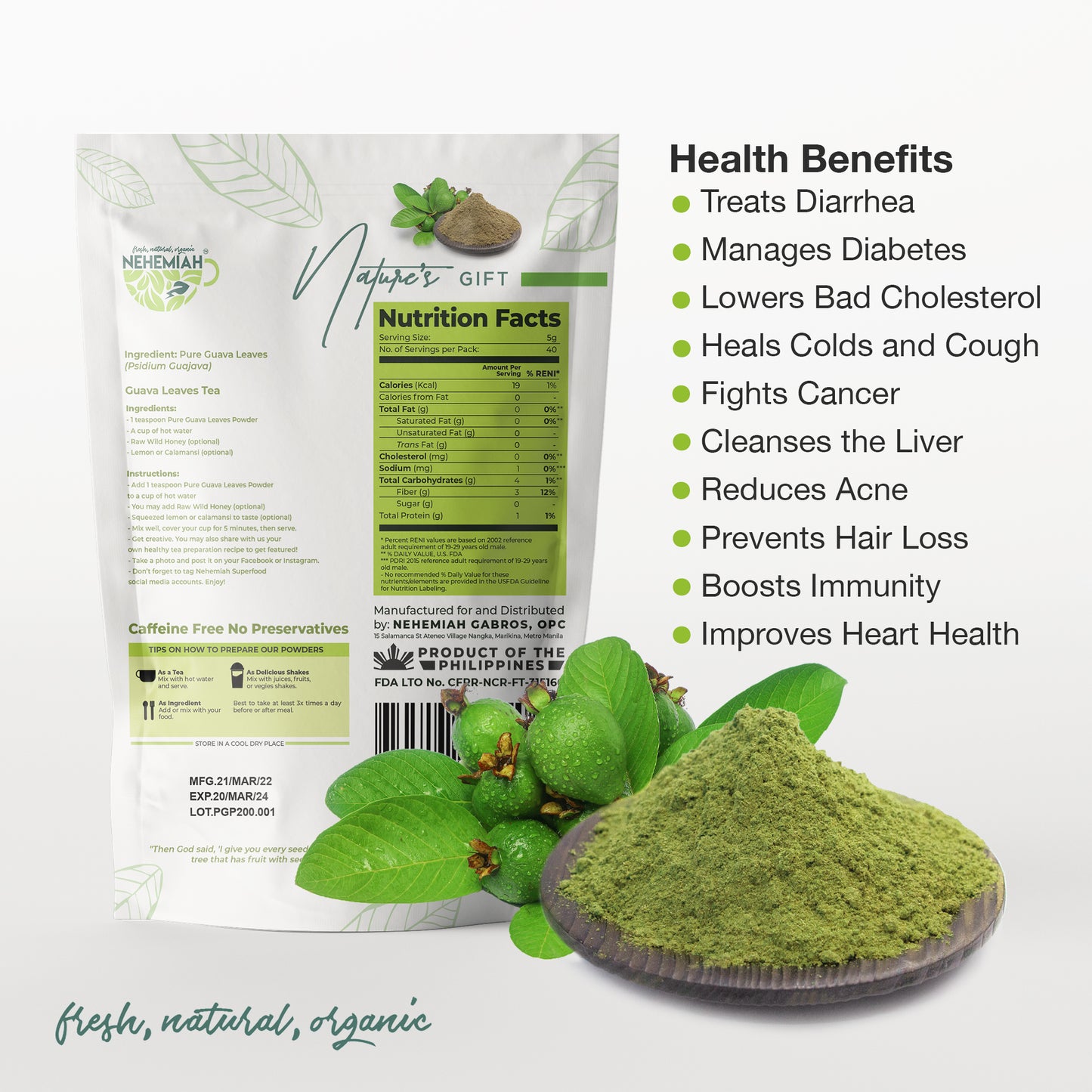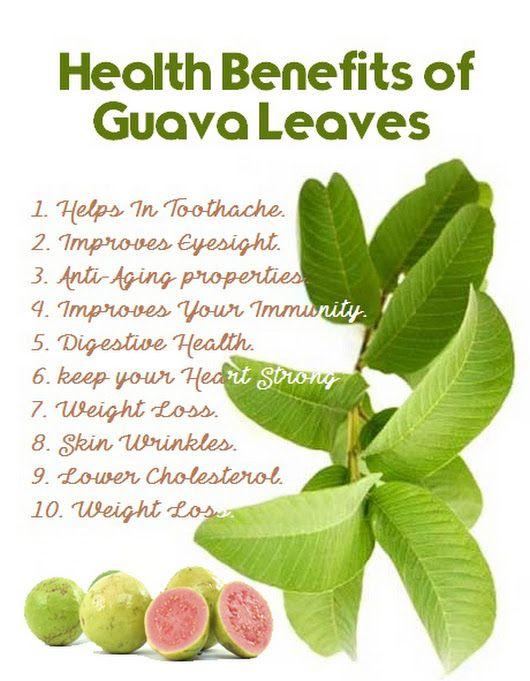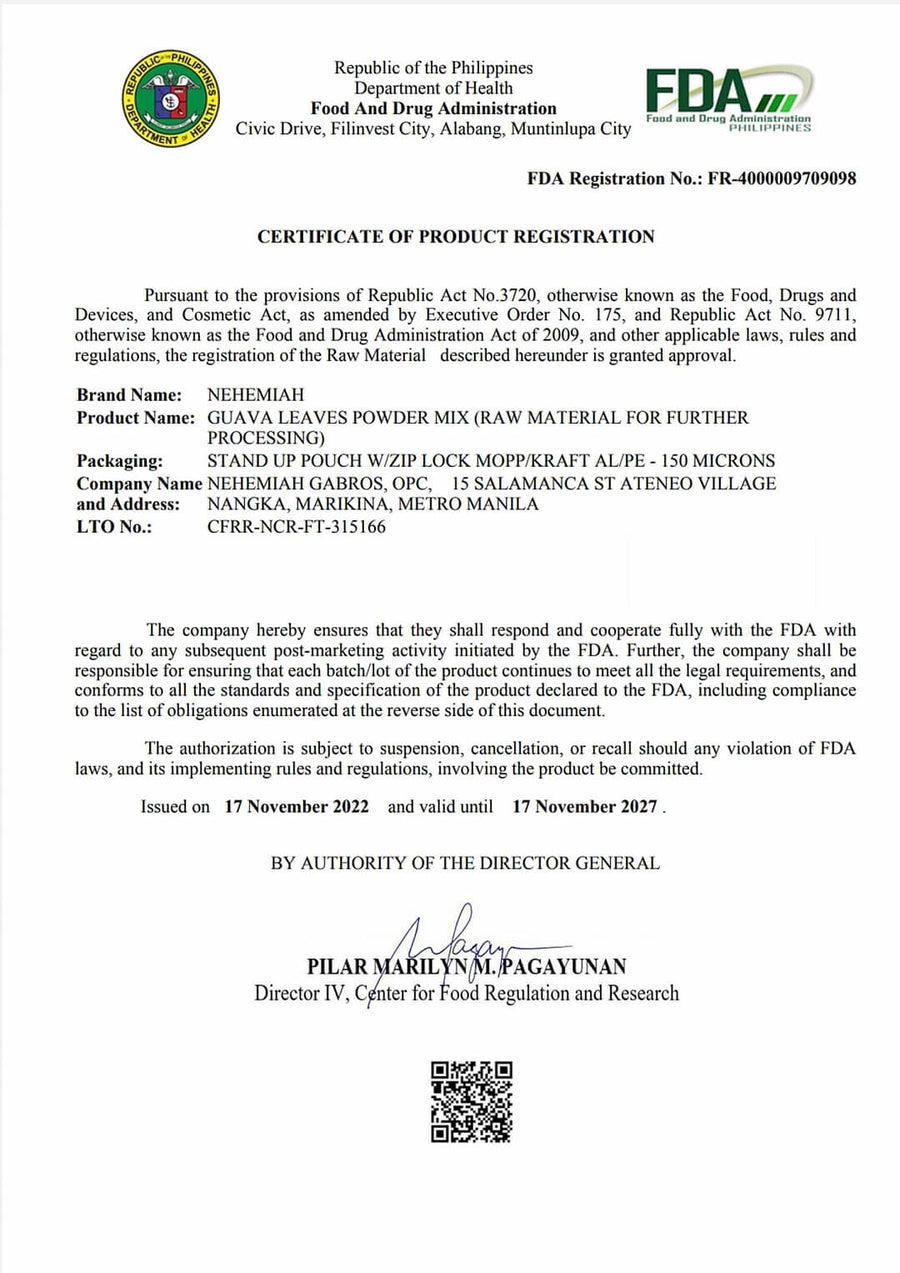 Product is good with a combination of 1tsp paragis
1tsp guava leaves
1/2tsp ginger
2cups hot water
Morning empty stomach
Bef bedtime
A lot of water in a day
Cleansed my intestine
I'm not hungry
Stomach rest for 12 -14 hrs a day
I love it!!!!
I was having tonsilitis and I was worried about having to look for medicine... the guava leaf powder has cured my tonsilitis in 24 hours!
Praise God!
Guyabano at guava powder mixed q kapag d stop lbm.. Once take nito stop tlga lbm..
At since start pandemic. Sinat or nilalagnat man nakasurvived family q
Dahil nag stock ako ng alam ko nakakalakas immune system mga powder na Ito .Kaya sinisikap namin lagi meron nito sa bahay Nehemiah Products esp. Un. Himalayan salt at sugar n first-time palang namin gagamitin.. . ..God blesss
I use this not just to boost immunity by adding it to my coffee and milk, but also, for disinfecting wounds minor wounds instead of using chemical! Super effective and natural!
I love it... When I'm not feeling well... I tried it... Then I'm really getting well right after I sue your products... Its amazing po.
Ezekiel 42:12
"...and the fruit thereof shall be for meat, and the leaf thereof for medicine."