Regular price
Sale price
₱320.00
Unit price
per
Sale
Sold out
LOVE IT OR WE WILL REFUND YOUR MONEY - We don't think you should pay for products that will not benefit you. Our Pure and Organic Graviola Capsule is very effective. Follow our tips and recommendation - If you aren't experiencing the health benefits of our products, simply let us know and we will refund your order - it's as easy as that!
RECOMMENDED SERVING: 3 to 4 Capsules a day. If you have health concerns and need healing 4 to 6 Capsules a day. Can be taken before or after meal. Very safe on empty stomach.
FREE SHIPPING for orders over ₱1,000.00! Standard shipping fee nationwide ₱180.00
Cash On Delivery all over the Philippines!
100 Capsules per Pack, 500mg per Capsule. Eco-friendly Resealable Pouch.
You may follow our FB Page https://www.facebook.com/NehemiahSuperfoodPlus or join our FB Group: Health and Wellness Awareness - Project NEHEMIAH for some health tips and ways on how to prepare and enjoy this superfood.
Revelation 22:2 "In the midst of the street of it, and on either side of the river, was there the tree of life, which bare twelve manner of fruits, and yielded her fruit every month: and the leaves of the tree were for the healing of the nations."
 WHY CHOOSE NEHEMIAH SUPERFOOD? We are using dehydration process to retain almost all (slight reduction of Vitamin C because of the process) of the original vitamins, minerals, and natural enzymes of food far better than other forms of food preservation like in other capsules, liquids or other powdered process.
 Soursop (also graviola, guyabano, and in Latin America, guanábana) is the fruit of Annona muricata, a broadleaf, flowering, evergreen tree. Aside from its anti - cancer feature it can also lower blood pressure, strengthens the immune system, improves energy levels, heals wounds, eliminates worms, relieves diarrhea and fever, and treats gonorrhea and herpes.
YOU DEFINITELY NEED TO LEARN THESE HEALTH BENEFITS OF GUYABANO MOST DOCTORS WON'T TELL US
 It's High in Antioxidants.
Kills Cancer Cells.
Help Fight Bad Bacteria.
Reduces Inflammation.
Help Stabilize Blood Sugar Levels.
Other Health Benefits of Guyabano
Alleviates pain stemming from arthritis, joint and back problems, and rheumatism.
Prevents urinary tract infections – Guyabano is known for its vitamin C content (77% daily value per cup). Vitamin C can help to decrease the number of harmful bacteria that may be present in the urinary tract.
Migraine and headache relief – Guyabano contains riboflavin, which could help with headaches.
May help with anemia – Soursop (guyabano) is rich in iron, which could help with iron deficiency anemia.
Prevents constipation – Before Rich in fiber, guyabano is one of the many foods to choose if you suffer from constipation.
Bone health – Guyabano contains copper, a mineral promoting the absorption of bone-benefiting calcium.
Prevents leg cramps – Potassium in the fruit could help prevent leg cramps.
Boosts energy levels – Along with vitamin C, guyabano is known to be rich in B vitamins as well. B vitamins are known to help increase energy levels.
Guyabano Benefit Summary – Guyabano can Used for:
Respiratory issues such as asthma or cough
Pain
Headaches or migraines
Intestinal upset, constipation, and stomach distress
Fever
Iron deficiency anemia
Urinary tract infections
Lack of energy
INGREDIENTS: Pure natural guyabano leaves and fruit peel, Vegetable Capsules.
Kindly check this additional discovery on how to administer the powder:
Pwedi rin po kung may shaker kayo using cold water or use small bottle with cup, this way hindi po lalabas ang aroma ng powder. Lagay po ang choice powder sa shaker or bottle, (add powdered milk, kung hindi lactose intolerant, brown sugar or honey, kung walang issue sa diabetic, purpose is to add taste) add small amount of cold water (gigger lang) shake well and drink straight. 1 or 1/2 teaspoon per serving.
Anybody can be a victim of health problems. Don't be a part of statistics. Invest on your health today before it's too late!
View full details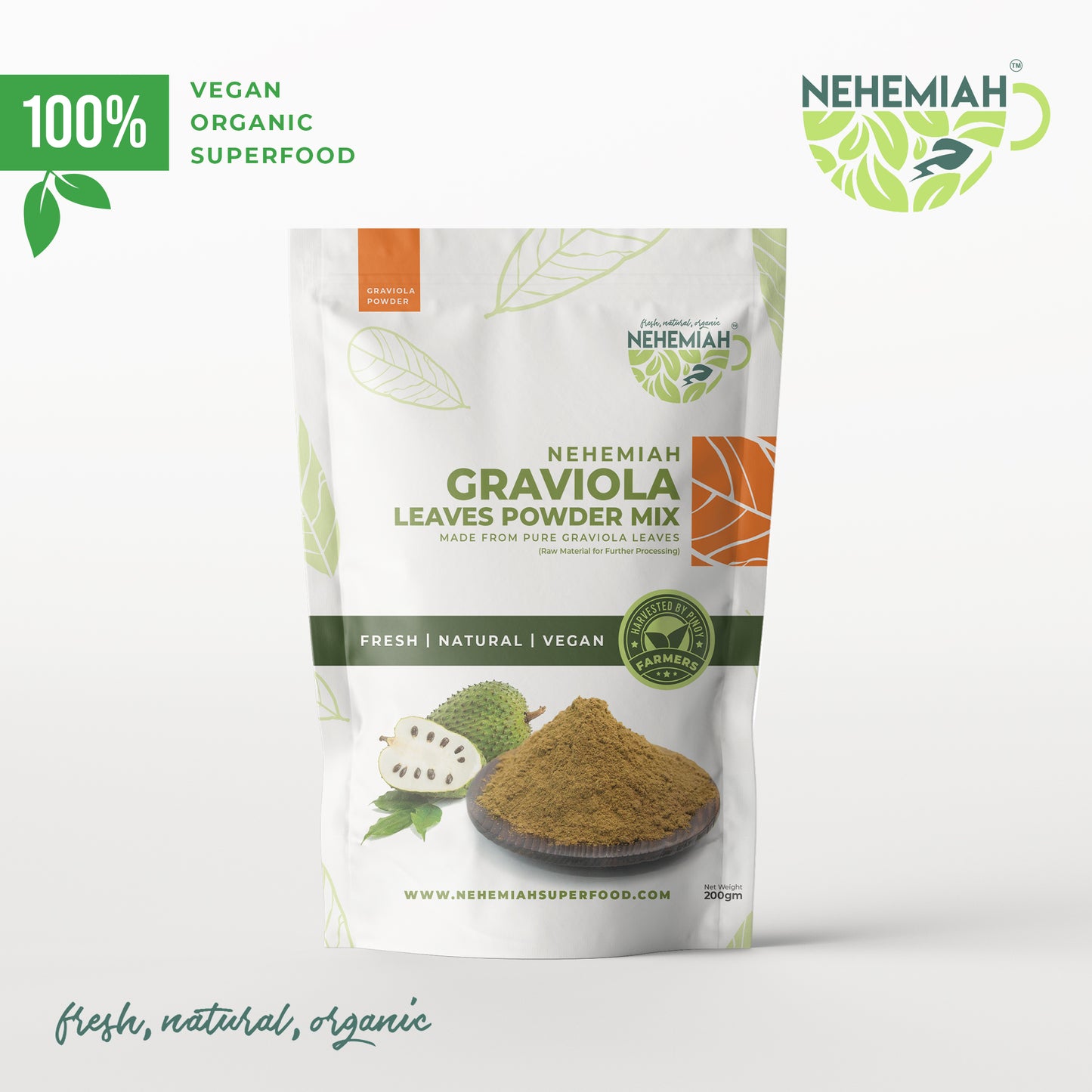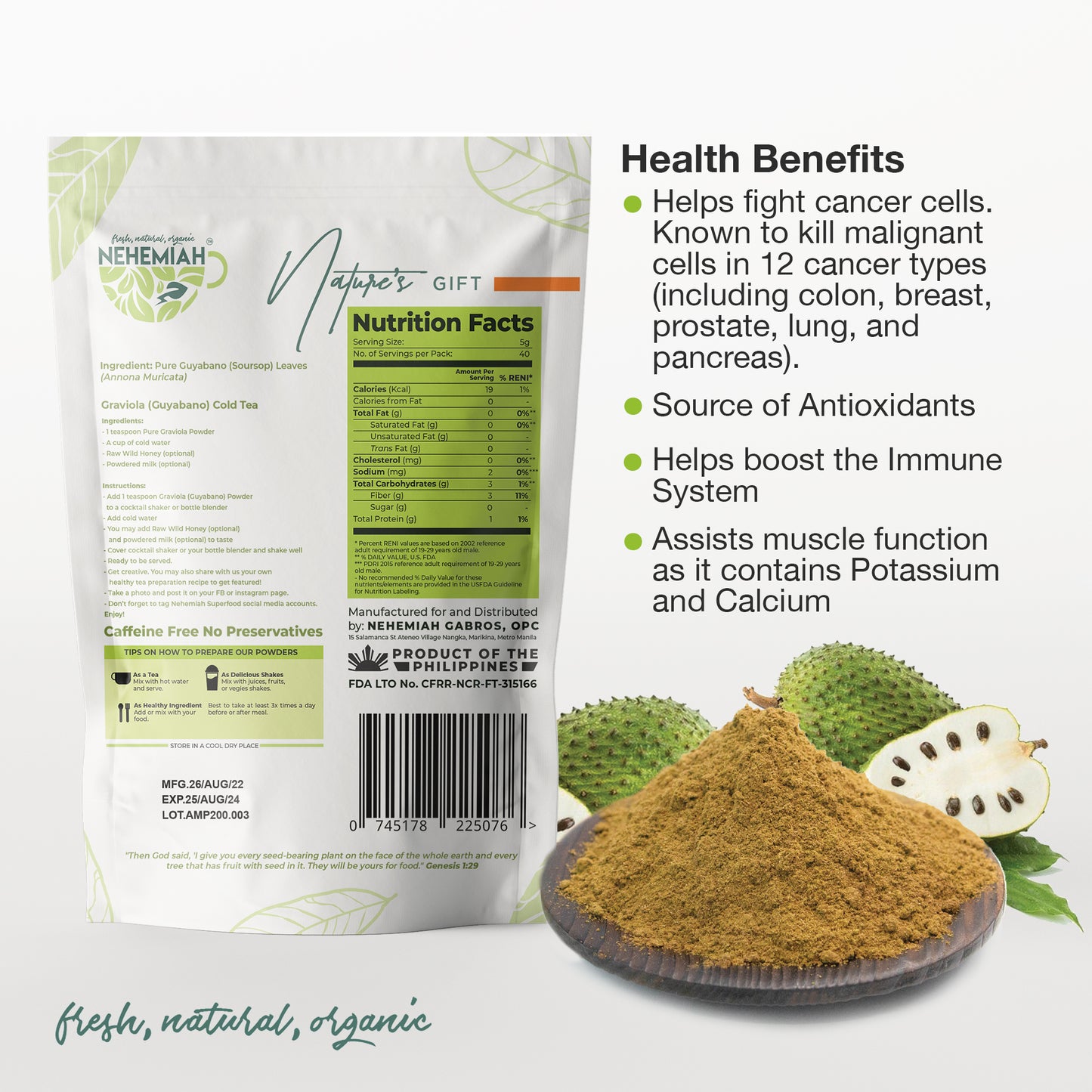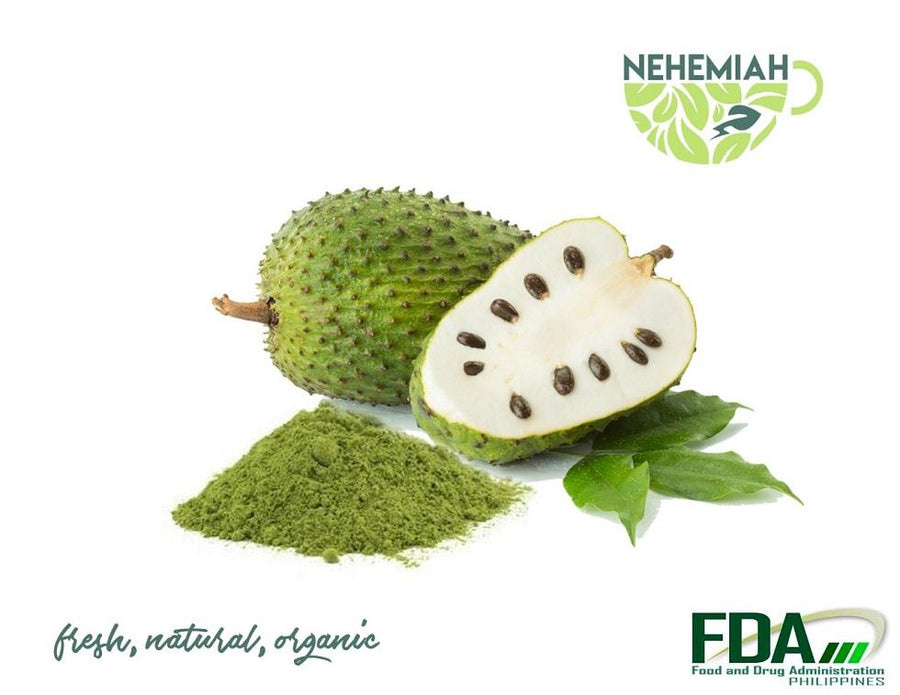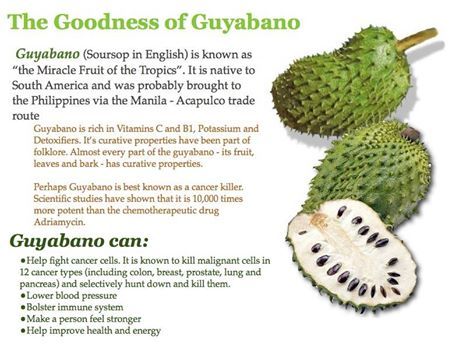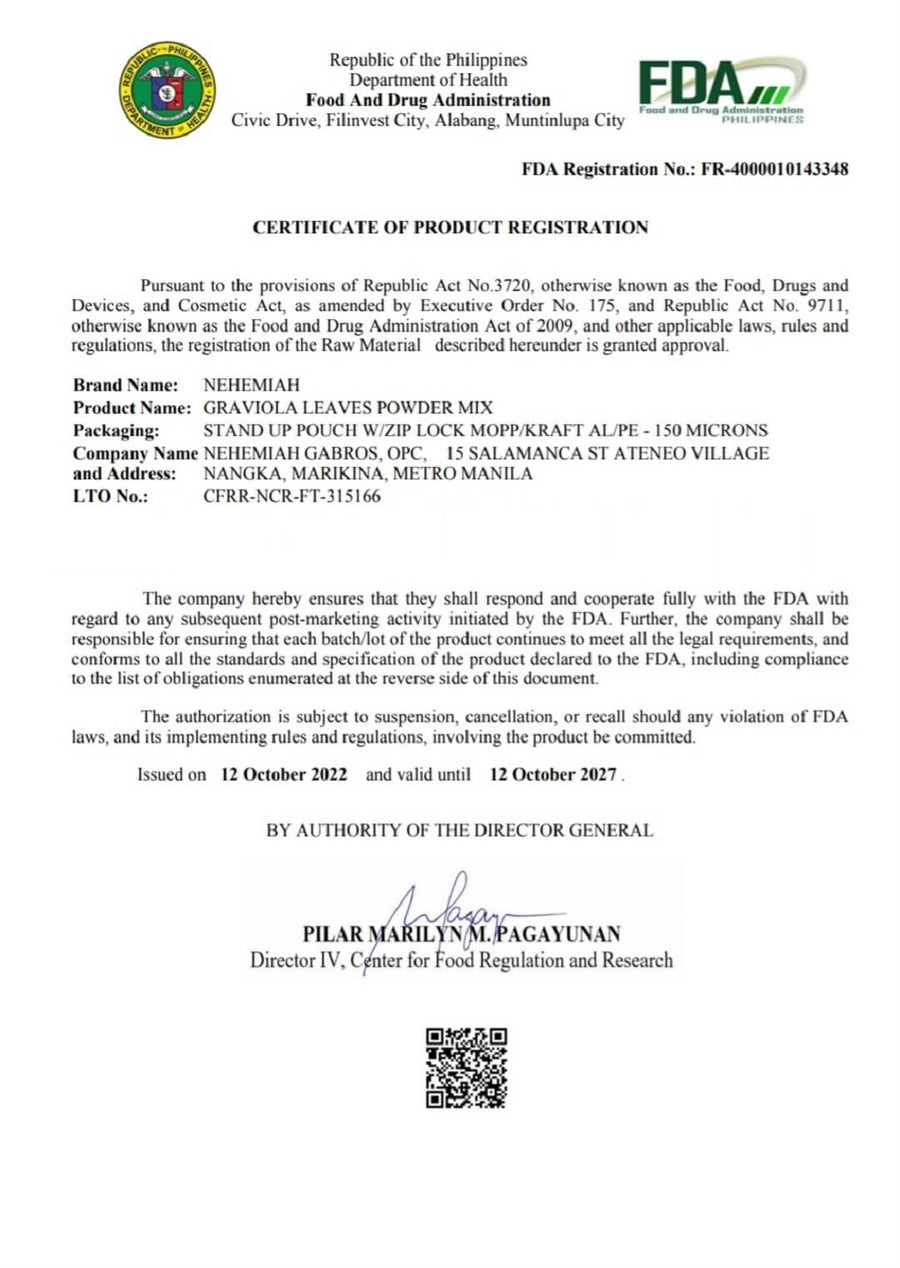 Very effective. Hindi pa nangangalahati ang isang pouch nakakaramdam na ako ng ginhawa. 3x a day ako umiinom as tea at minsan hinahalo ko sila sa shake ng mangosteen. Very good product indeed. Thanks Nehemiah superfood!
Thank you Nehemiah super food! Magmula nang maka order ako sa inyo, ang laking ginhawa...Hindi n ako naghahanap tuwing hapon after work ng mga dahon na ilalaga ko para sa anak ko. 😘
Masarap itong nehemiah guyabano, unlike sa pinapakulo na may pagka mapakla ang lasa.
Kahit walang sugar, okay ang lasa. At higit sa lahat yung benepisyong taglay ng guyabano para sa kalusugan. Kaya naman patuloy kong iinumin ito para lumakas at malayo sa iba't ibang uri ng mabibigat na karamdaman.
Last December i had experienced severe throat inflammation.I went to my Doctor and after several test,it was all because i have GERD and i didnt knew because i dont have the usual signs and symptoms like acid reflux but i always had abdominal bloating.My doctor ordered a proton pump inhibitor to be taken twice a day for three mos.I took my meds every morning and before dinner but my i felt that my symptoms worsens.I searched about proton pump inhibitors and one of the side effect is cancer of the stomach for prolonged use and I was bit hesitant to continue my ordered prescription so i stop taking it and I opted to try the natural way by trying guyabano leaves and ginger as a tea.Everyday i had to prepare my tea but because I lived here in the city,finding guyabano leaves is hard and then one day i saw a post from Nehemiah and as I read about the product and the company that they are preserving the medicinal effect by their process.I ordered guyabano and ginger.I was so happy with the result..after three months of taking this tea,my GERD is controlled.My voice was restored too and my
Im happy that i found Nehemiah.Im taking all their products as juice or as tea and my husband love it too.
I believe that Prevention is better than cure, and a cure can be found in nature
Salamat Nehemiah Superfoods. I received my order tea in good condition , correct item & well packed. Price is affordable naman. Mama loves also the Guyabano powder I bought her for cancer killer herbal tea. I will buy again. Highly recomended brand!👍👍
Ezekiel 42:12
"...and the fruit thereof shall be for meat, and the leaf thereof for medicine."