Regular price
Sale price
₱380.00
Unit price
per
Sale
Sold out
FREE SHIPPING for orders over ₱1,000.00!



Standard shipping fee nationwide 

₱180.00

Cash on Delivery all over the Philippines!

500 grams.

Eco-friendly Resealable Pouch.

Best sugar alternative for diabetic person.

Great alternative to processed sugar and artificial sweeteners.

Unrefined and unbleached Coconut sugar.

Low Glycemic Index.

Natural organic sweeterner, guaranteed no preservatives added and rich in essential nutrients.
Done through the natural process of heat evaporation after sap collection.
An ideal substitute for artificial sweeteners.
Coco Sugar.
You may follow our FB Page https://www.facebook.com/NehemiahSuperfoodPlus or join our FB Group: Health and Wellness Awareness - Project NEHEMIAH for some health tips and ways on how to prepare and enjoy this superfood.
Genesis 1:29

 

Then God said, "Behold, I have given you every plant yielding seed that is on the surface of all the earth, and every tree which has fruit yielding seed; it shall be food for you"
Health benefits of coconut sugar:

One major health advantage coconut sugar has over refined white table sugar is that it's natural and not refined. That means coconut sugar retains its vitamins and minerals, which include vitamins C, B1 B2, B3, and B6, as well as calcium, iron, magnesium, potassium, and zinc. Coconut sugar also contains much less fructose (3 to 9 percent) than does white table sugar (50 percent), which is an advantage if you want to keep your fructose intake low.

Coconut sugar consists mainly of sucrose plus small levels of fructose and glucose. If you have diabetes or are concerned about prediabetes, you will be pleased to know that coconut sugar has a glycemic index of 35. This means coconut sugar is classified as a low glycemic index food and suitable for diabetics because it does not have a dramatic impact on blood sugar levels. The average glycemic index of other sweeteners are as follows: table sugar (68), brown sugar (64), honey (55, but there is a wide range), maple syrup (54), and agave syrup (15).
Ingredients: Produced from the sap of the flower bud stem of the coconut.
Kindly check this additional discovery on how to administer the powder:
Pwedi rin po kung may shaker kayo using cold water or use small bottle with cup, this way hindi po lalabas ang aroma ng powder. Lagay po ang choice powder sa shaker or bottle, (add powdered milk, kung hindi lactose intolerant, brown sugar or honey, kung walang issue sa diabetic, purpose is to add taste) add small amount of cold water (gigger lang) shake well and drink straight. 1 or 1/2 teaspoon per serving.
Anybody can be a victim of diabetes. Don't be a part of statistics. Invest on your health today. Order Now!
View full details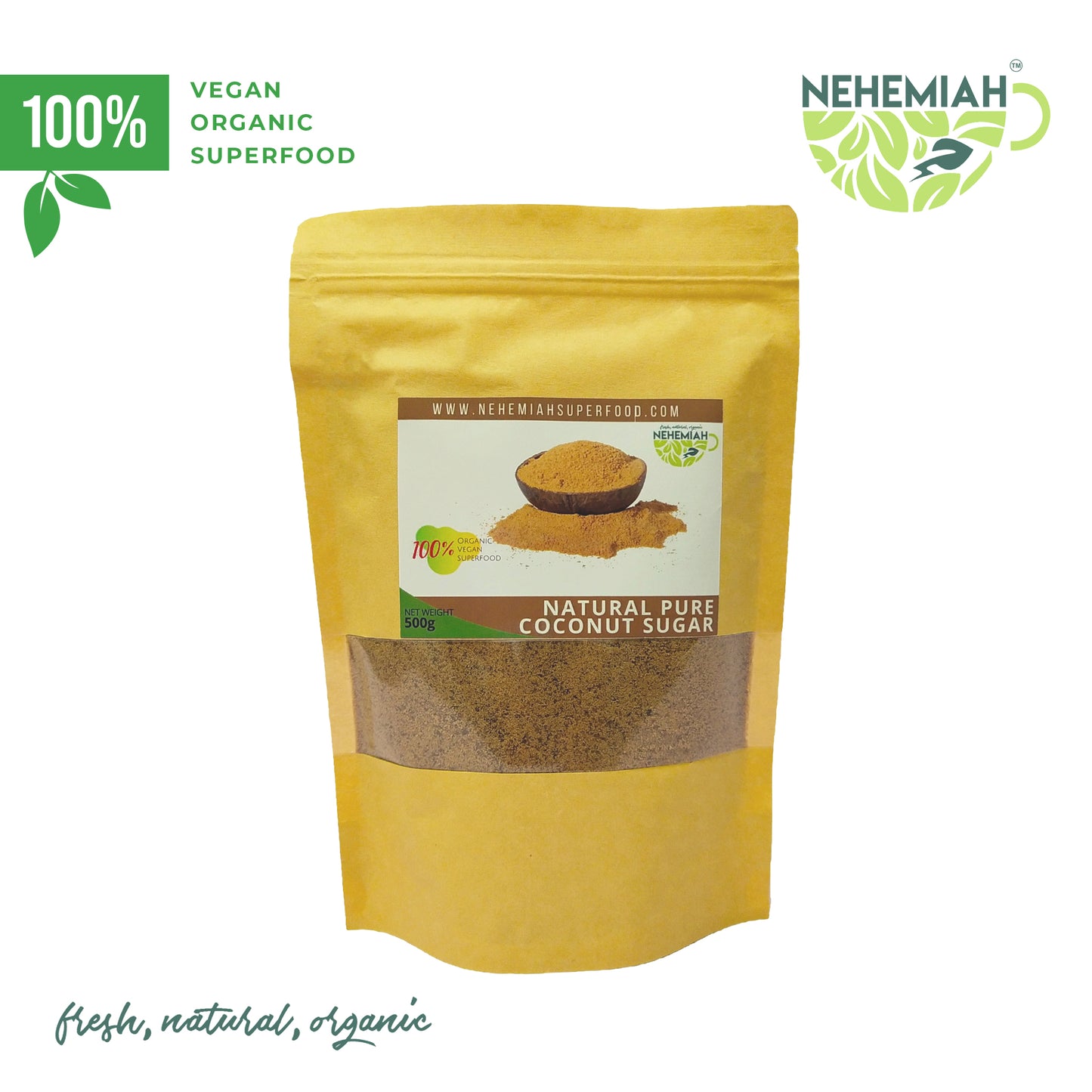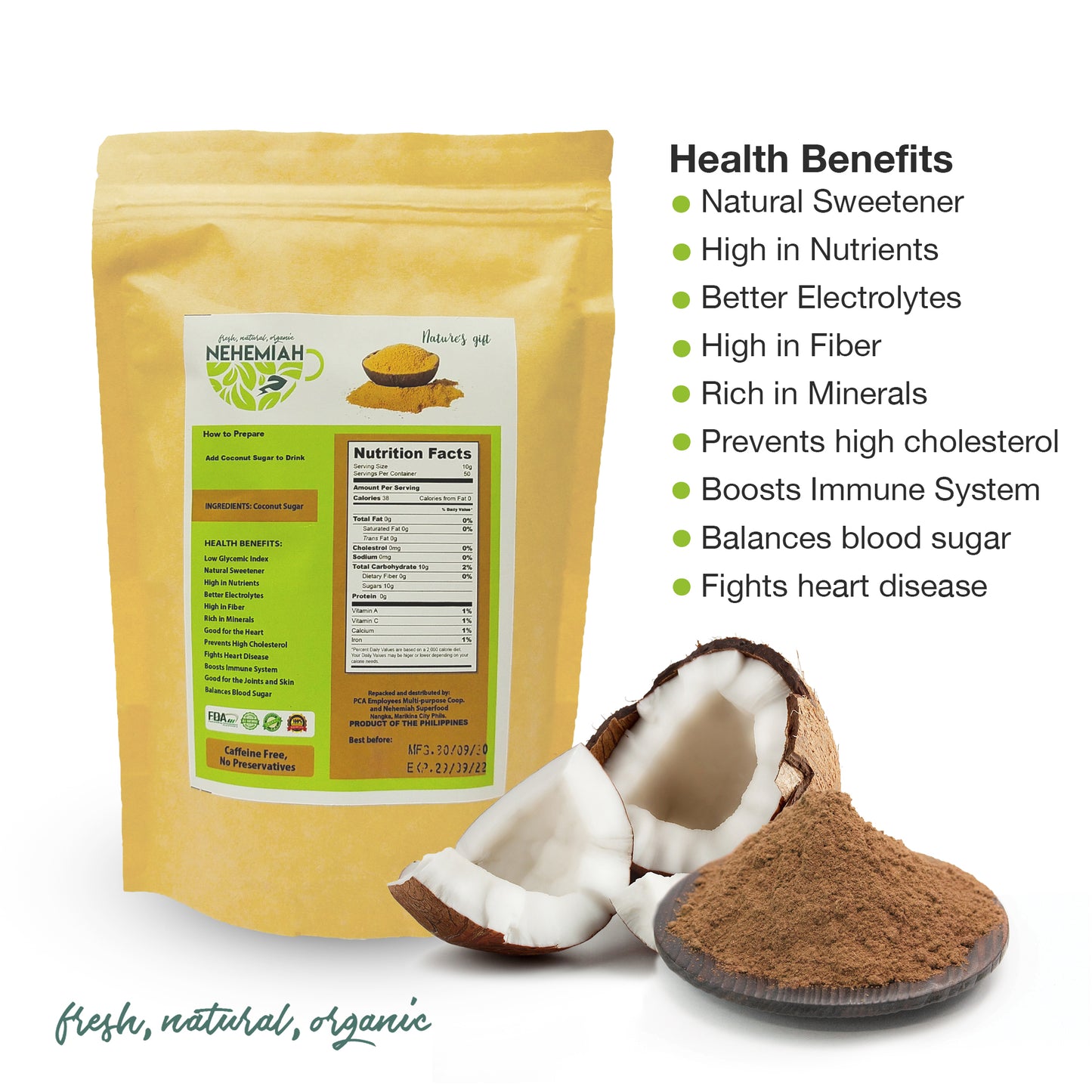 I bought Nehemiah Natural Pure Coconut Sugar, Moringa Powder ang Lemongrass Powder. With Nehemiah Natural Pure Coconut Sugar I observe that my blood sugar is still normal. I used Nehemiah Malunggay powder ang Lemongrass powers as tea. Malunggay powder helps boosts my immune system and with my maintenance aids in lowering my blood pressure. Lemongrass tea is relaxing and aids in stomach wellness. I will support the Nehemiah products not only of the above benefits but because they are natural and do not have preservatives.
Good tasting product and a good alternative for sugar. A good combo for my pure green coffee bean + moringa powder in the morning. I'm looking forward to use this for other food recipes. More power to Nehemiah Super Food team. God is good.
Ang sarap ng cocosugar nyo! Instead of honey ito ang gngamit kong sweetener! We'll continue using your products because we believe these really help our body healthy, and also, in supporting our local farmers in the Philippines! I spread the good benefits of them here onboard by letting my colleagues try your products as well! God bless!😊
Ezekiel 42:12
"...and the fruit thereof shall be for meat, and the leaf thereof for medicine."